(Good analysis – promoted by Rob "EaBo Clipper" Eno)
This diary was cross-posted from Red Racing Horses.
Introduction
For the past half century, Massachusetts has been one of the country's most reliably Democratic states. However, certain Republicans running there in the past 30 years have been able to break through the state's traditional Republican ceiling and win the Bay State on the senatorial, gubernatorial, and presidential levels. Ronald Reagan won the state in 1980 and 1984 on a presidential level, Bill Weld (1990 and 1994), Paul Cellucci (1998), and Mitt Romney (2002) won it on a gubernatorial election within the past quarter century, and Scott Brown won it on a senatorial level in 2010.
Each of these Republicans won by assembling a different victory coalition. Ronald Reagan's 1984 coalition, Bill Weld's 1990 coalition, Mitt Romney's 2002 coalition, and Scott Brown's 2010 coalition were dramatically different. Each victory shows that a few different routes to Republican victories in Massachusetts have been possible in the past 30 years.
2014 Republican gubernatorial candidate Charlie Baker hopes to cobble together a victory coalition of his own on election night this November. In order to evaluate how the Massachusetts Republican victory coalition has shifted in the past 30 years, and therefore also explore how Charlie Baker might win this November, Red Racing Horses editors Shamlet and BostonPatriot and I collaborated to break the state down into 21 sociocultural regions.
These sociocultural regions, or groupings of similar towns and cities, incorporated geographic location, industrial history, income and educational attainment levels, politics, and cultural characteristics.
I then evaluated and analyzed how four winning Republican candidates fared in each region: Ronald Reagan (1984 Presidential election), Bill Weld (1990 gubernatorial election), Mitt Romney (2002 gubernatorial election), and Scott Brown (2010 senatorial election). I also determined whether or not each region cast more votes relative to the amount of the state's votes it cast in the 1984 presidential election in order to evaluate whether or not each region is becoming more or less important in Massachusetts politics.
Reagan, Weld, Romney, and Brown's Victories
Reagan (51.4%), Weld (51.7%) Romney (52.6%), and Brown (52.4%) each won narrowly by a similar percentage. Therefore, their victory coalitions can be directly compared without adjusting results to standardize their margins of victory. Third party votes were excluded for standardization purposes.
Reagan, Weld, Romney, and Brown, all won by over-performing the standard, futile Republican baseline in each region of Massachusetts. However, each candidate's victory coalition differed substantially from the other candidates'. It is important to note that federal and state coalitions will always be different, as some Massachusetts voters often vote Republican on a state level but never a federal level. Still, exploring both type of coalitions and comparing them is important.
On his way to a 59% victory nationally in which he won the votes of millions of blue collar "Reagan Democrats" who had never voted for a Republican before, President Reagan over-performed most strongly in blue collar areas in Massachusetts. Reagan won blue collar areas that had not been won by a Republican in recent years, and performed particularly well in mill towns, small manufacturing cities, and middle class suburbs.
Unlike Reagan's more blue collar victory coalition, ex-US Attorney Bill Weld's was very white collar. Weld's opponent, Boston University President John Silber, had voted for Ronald Reagan twice and had been quoted mocking liberals. Meanwhile, Weld's platform was fiscally conservative–he called for balanced budgets, tax cuts, and state deficit reduction–and socially liberal. Weld highlighted his socially liberal views in order to run well to Silber's left on social issues to appeal to Democrats who found Silber to be unacceptable on social issues.
Silber was known for making outlandish statements known as "Silber shockers," including claiming that Massachusetts' large Cambodian immigrant population had come to the state because it was a "welfare magnet," and explaining that he believed that middle class working mothers may be guilty of child neglect.
Silber was up by as many as 10 points in polls even a week before the election, but Weld prevailed. Many attribute Weld's win to Silber's hostile personality, which came into focus during a television interview with a popular Boston interviewer whom Silber exploded at upon being asked about any potential weaknesses of his.
Weld won by performing far more strongly than any Republican in modern political history in normally liberal areas of Massachusetts and performing well-enough in white collar suburbia. His victories in notable liberal strongholds including Cambridge, Brookline, Newton, Amherst, Williamstown and Northampton will likely never be repeated under the current coalitions of the national Democratic and Republican Parties (although he won many of those towns and cities in his blowout re-election win in 1994). Those wins in reflexively Democratic areas allowed him to overcome losses in areas home to blue collar Reagan Democrats normally part of a Republican victory coalition in Massachusetts.
Like Governor Weld's, Republican businessman and former US Senate candidate Mitt Romney's victory coalition was also very white collar. Also, like Weld, Romney ran as a pro-choice, but fiscally conservative, Republican. He also highlighted his successful business career and attacked his opponent, State Treasurer Shannon O'Brien, for being a poor fiscal watchdog. However, while Romney did not over-perform substantially in the normally Democratic areas that propelled Weld to victory, he substantially over-performed Weld in middle class small towns and suburbs throughout the state. Romney also improved on Weld's performance in urban and suburban Reagan Democrat strongholds.
Finally, State Senator Scott Brown's victory coalition combined elements of both Reagan's and Romney's. Still, his coalition was more similar to Reagan's considering that, except for one white collar suburban region that Reagan won and Brown narrowly lost, Reagan and Brown won and lost the same regions. Brown, whose come-from-behind victory stunned the political world, campaigned as an everyman with blue collar roots. His populist record connected with middle class voters; Brown won by crushing Democratic Attorney General Martha Coakley in middle class small towns, suburbs, and exurbs throughout the state. Brown also performed strongly in blue collar, "Reagan Democratic" strongholds such as Lowell, Taunton, Fitchburg, and Leominster.
Massachusetts' 21 Sociocultural Regions
Next, I will break down the state's sociocultural regions and explain in greater detail how each region voted in each election.
Below the fold is a statewide map that shows each sociocultural region. Each region will subsequently be analyzed. The end of the article contains a data and election maps section.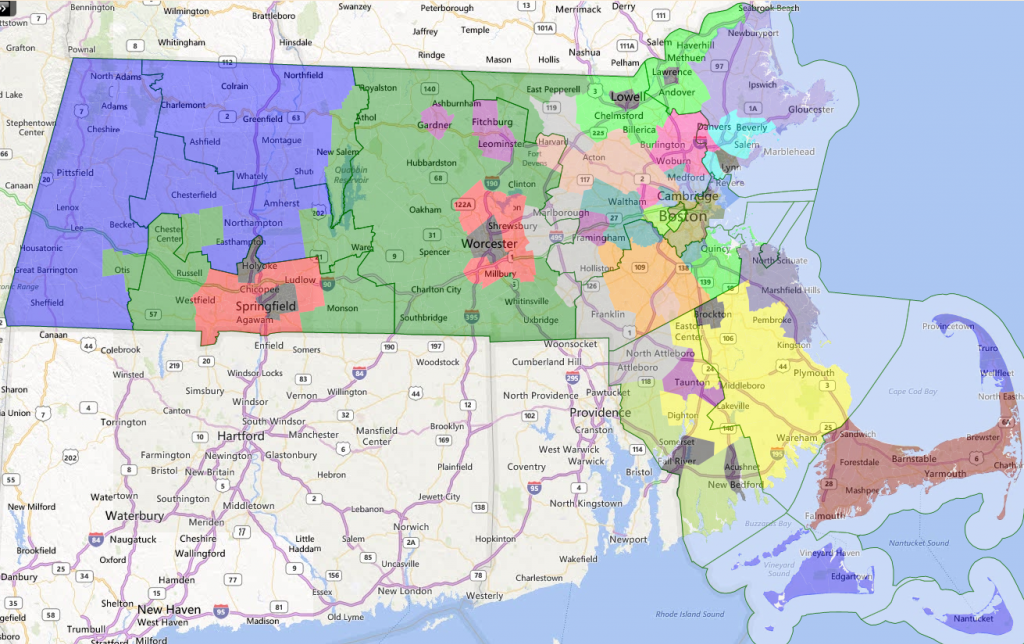 Regional Election Breakdowns
1. Rural Progressives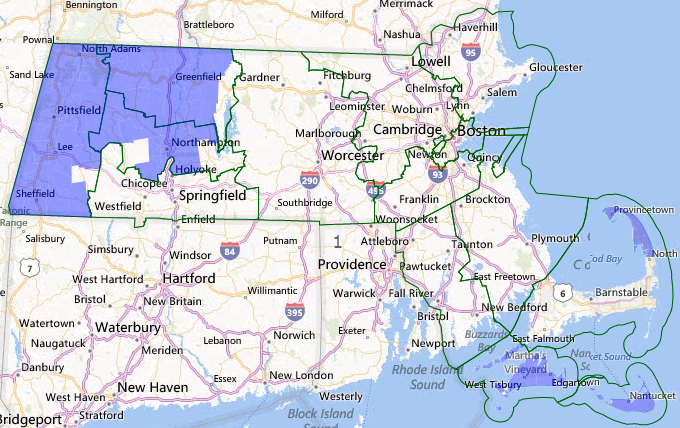 Strongly rural and highly irreligious, Region 1 is home to most of the state's rural progressives. Numerous colleges and universities, including the University of Massachusetts at Amherst, Williams College, Amherst College, Hampshire College, Mount Holyoke College, and Smith College, are located within its boundaries. Many of the state's resort areas (the Berkshires, Provincetown, Nantucket, and Martha's Vineyard) are also found in Region 1. Region 1 is a popular destination for wealthy liberal retirees from Boston seeking a country environment, which makes the US Census understate parts of the region's post-industrial rural poverty issue (particularly in areas in the Berkshires around North Adams and Franklin County). It is also home to many artists and hippies. Additionally, the city of Northamption is a popular tourist destination and residential haven for lesbians.

All of Region 1's demographics, from its retired transplants to its artists to its academics and students to its rural residents, vote reflexively Democratically. It is one of few rural areas of the country to vote so Democratically.

Region 1's Western Massachusetts component was represented by Republican Congressman Silvio Conte from 1959 until his 1991 death. Ronald Reagan performed strongly in Region 1, but GOP performances in Western Massachusetts have cratered since the 1980s. Bill Weld won Region 1 thanks to his strong performances with traditionally Democratic academics and other liberal, white collar residents of the region. However, in a sign that Region 1 is not particularly electorally elastic, Mitt Romney and Scott Brown both performed poorly there.

Luckily for the GOP, reliably Democratic Region 1 cast a smaller percentage of votes in 2010 than it did in 1984.
2. Small Towns West of 495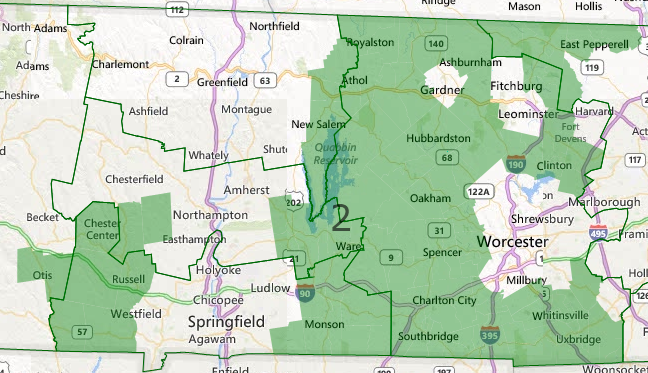 Region 2 is a land of small, idyllic New England towns. More economically stable and religious (largely Catholic) and less rural than Region 1, it also votes considerably more Republican than its even more rural neighbor does. Region 2 also has more industry and small businesses than Region 1 does.

In a positive sign for the GOP, Region 2 has grown in population, and it cast a significantly larger share of the state's votes in 2010 than it did in 1984. While generally a GOP base area, Bill Weld underperformed the GOP floor in Region 2. John Silber's "straight talk" likely connected with certain voters in Region 2 usually part of the GOP's victory coalition, but it gave solid margins to Ronald Reagan and Mitt Romney and was absolutely critical to Scott Brown's statewide victory. Seen as a straight shooter with no strong ties to the state's political establishment, Brown over performed the GOP baseline more than in almost any other region in Region 2.
3. Secondary Population Centers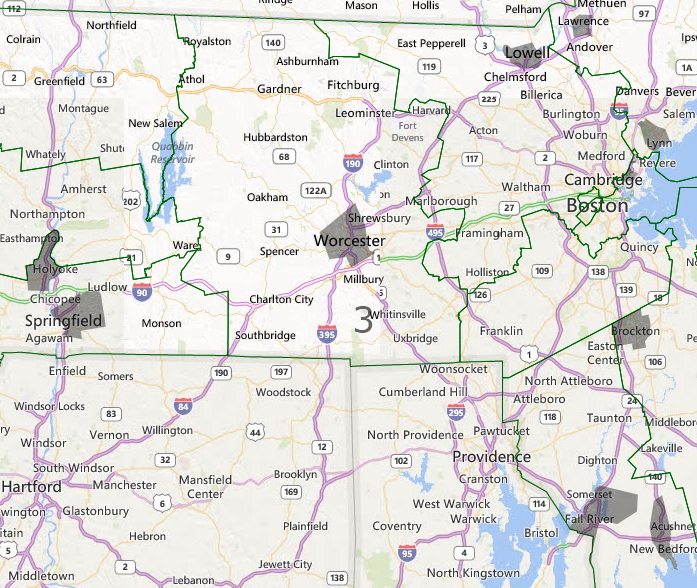 Region 3 is home to most of Massachusetts's small cities: Springfield, Holyoke, Worcester, Lynn, Lawrence, Lowell, Chelsea, Brockton, Fall River, and New Bedford. In addition to being manufacturing cities like the rest of Region 3, Fall River and New Bedford are important commercial fishing centers.

These cities have always reflexively Democratic and have generally trended more so as their minority populations have grown. However, as their minority populations have grown, whites have left and voting rates have plummeted. In a positive sign for the GOP, Region 3 casts a far smaller share of the state's votes in 2010 than it did in 1984.

The remaining white populations are largely comprised of blue collar Democrats who often are critical votes in a blue collar-oriented GOP victory coalition. Ronald Reagan and Scott Brown performed particularly strongly in Region 3. Brown even won Lowell and narrowly lost Worcester, two of the whiter cities in the region, meaning that he likely won Region 3 whites. However, minority turnout in Region 3 and in other Massachusetts urban centers helped lead to Brown's 2012 loss in his bid for a full term.
4. Worcester/Springfield Suburbs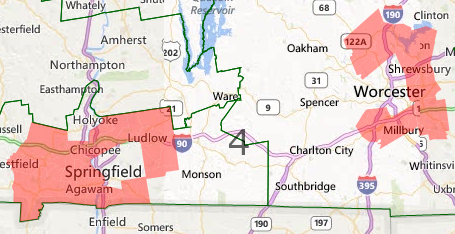 Region 4 is home to Western and Central Massachusetts suburbs. These suburbs are a mix of white and blue collar, although with Central Massachusetts' tech boom of the 1990s and 2000s, Worcester's suburbs are more white collar than Springfield's.

Region 4 cast a similar percentage of the state's overall votes in 2010 as it did in 1984. Still, its importance in the GOP victory coalition has grown.

While Bill Weld only narrowly won Region 4, Ronald Reagan, Mitt Romney, and Scott Brown (in particular) over-performed significantly in Region 4.
5. 495 Belt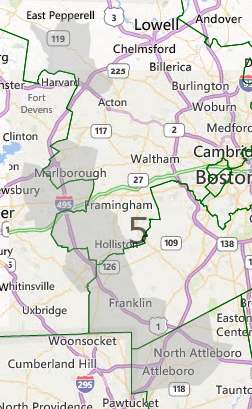 Region 5 is mostly comprised of a ring of generally white collar Boston exurbs that track I-495 (Attleboro and North Attleborough function both as Boston exurbs and Providence suburbs). Pocketbook issues are important to its cost-conscious, generally middle class residents. Region 5's towns provide affordable, lower density alternatives to the usually pricy closer-in Boston suburbs.

Before moving to New Hampshire, Scott Brown lived in Wrentham (on the Rhode Island border in Region 5).

Boston's exurbs have grown rapidly in the past 30 years, and Region 5's increase in votes cast was the largest of any region's.

A strong performance in Region 5 is key to any Republican's victory coalition. Every winning Republican in recent history performed very strongly there.
6. Route 2 Corridor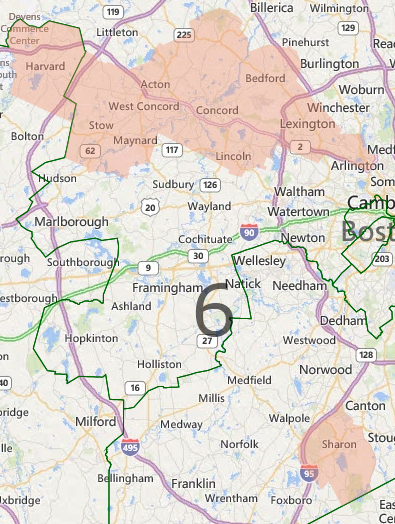 Region 6 is home to Lexington and Concord, two towns home to crucial Revolutionary War battles. However, gone is their revolutionary, individualistic streak (Concord was the first US city to ban the sale of plastic bottles when it did so in 2012). In its place is more than a streak of Marin County, California-style liberalism.

Today, the affluent Route 2 corridor between Harvard and Arlington is home to many suburban Boston's lawyers, tech workers, and academics. Much of Route 2 is heavily Jewish, and Acton, Arlington, Boxborough, and Lexington have sizable–and growing–Asian populations. Due to its strong similarities to the Route 2 corridor, Sharon (the affluent hub of Judaism in suburban Boston located south of MetroWest) was added to Region 6.

Route 2 provides Region 6's residents easy access to Kendall Square (Massachusetts' mini-Silicon Valley), research facilities in Cambridge and Boston, and three major universities (Harvard and MIT in Cambridge and Boston University just across the Charles River from Cambridge). Towns around Region 6, but Harvard in particular, have some of the state's best public schools.

While Lexington, Lincoln, and Arlington were always liberal bastions, towns in the western portion of Region 6–such as Harvard, Acton, and Boxborough–were historically Republican-leaning. However, they became almost as liberal as the towns in the eastern portion of Region 6 as Boston suburbia rapidly pushed outward and brought moneyed liberals further out along Route 2 between the late 1960s and the 1980s.

Region 6's share of the statewide electorate hardly changed between 1984 and 2010.

While normally Democratic, Region 6 was Bill Weld's best region statewide. However, as long-time residents of towns featuring more recent growth (Acton, Boxborough, and Harvard) moved or passed away and were replaced by liberal transplants, the already liberal region trended even more leftward. While the region already voted 10 points to the left of the country for President in 1984, results from elections since then show that, likely because of the national GOP's growing reliance on fiscal/social conservative fusionism, it has continued trending left. Scott Brown underperformed Ronald Reagan by almost 10 points here. Only Region 1 (Rural Progressives) featured a steeper drop-off. Region 6 will only continue to become tougher for the GOP in its current national coalition.
7. Merrimack Valley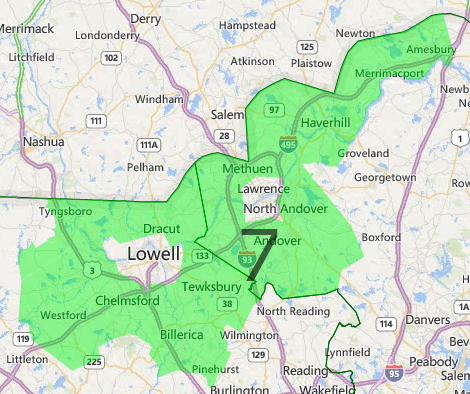 Region 7 contains the entire Merrimack Valley, aside from the manufacturing cities of Lawrence and Lowell. The entire region is considered part of Greater Boston, although the western portion of Region 7 is generally considered part of Greater Lowell.

Region 7 is generally made up of a mix of middle class blue and upper-middle class white collar suburbs. Blue collar, middle class suburbs like Tewksbury and Billerica have become increasingly friendly to Republicans in recent years. Highly affluent Andover and Westford are the most white collar towns in the region. Methuen and Haverhill still have a strong industrial presence.

Bill Weld underperformed Ronald Reagan significantly in Region 7, but it has become a Republican base area and a crucial part of the GOP victory coalition. Mitt Romney and Scott Brown easily topped 60% there in their recent statewide victories. Region 7 also cast a relatively significantly greater percentage of the state's votes in 2010 than it did in 1984, showing its increasing electoral significance.
8. North Shore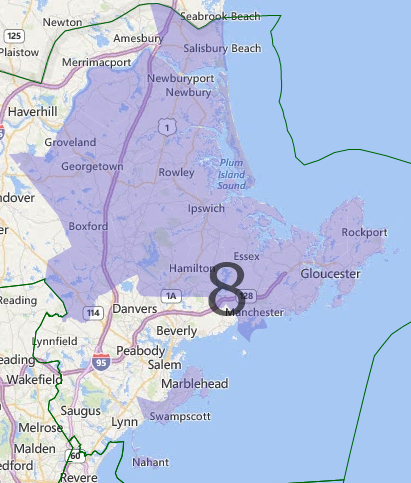 Region 8 is the Massachusetts North Shore (or "Nawth Shawh," if you're a local). While oceanfront Swampscott, Marblehead and Manchester-by-the-Sea are home to some of the Boston suburbs' oldest money, the rest of its waterfront towns (particularly Gloucester, Rockport, Ipswich, and Newburyport) have histories as fishing and industrial centers. While manufacturing is no longer found to any great extent on the North Shore, some remnants of the fishing industry can still be found, and these towns are still popular tourist spots for their beaches and boating cultures.

The I-95 corridor in Region 8 is made up of affluent, outer-ring Boston suburbs. Boxford, Hamilton, Topsfield and Wenham, horse country suburbs, stand out for being particularly wealthy.

While Gloucester, Rockport, and Newburyport vote consistently Democratic, and the other coastal towns are politically moderate and electorally divided, the inland I-95 corridor is a Republican base area. Boxford was the only town in the state to vote against John Kerry during his 2008 re-election bid.

Region 8's share of the statewide electorate grew by .6% between 1984 and 2010, showing that it has experienced moderate growth. The region consistently votes ~59% Republican in statewide wins, and Mitt Romney slightly over-performed the other winning Republicans there.
9. Route 1 Corridor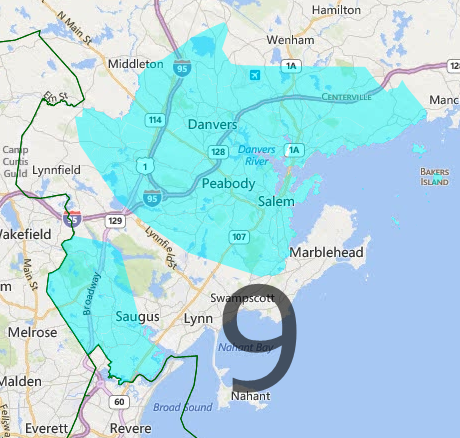 Region 9 is home to the small city of Salem and the middle class Boston suburbs surrounding it. Considering its history as the site of the 1692 Salem Witch Trials, Salem's economy is anchored in witchcraft tourism. Neighboring Beverly, Peabody, and Danbury and nearby Saugus are middle class Boston suburbs with blue collar streaks. Danvers, Peabody, Beverly are home to a number of office parks along I-95 and Route 128, and Peabody's Northshore Mall is Massachusetts' largest shopping mall north of Boston.

While Reagan and Weld struggled here, only narrowly winning, Romney and Brown won it with 56% and 57% of the vote, respectively. The region cast slightly fewer votes relative to the state in 2010 than it did in 1984.
10. 128 North Corridor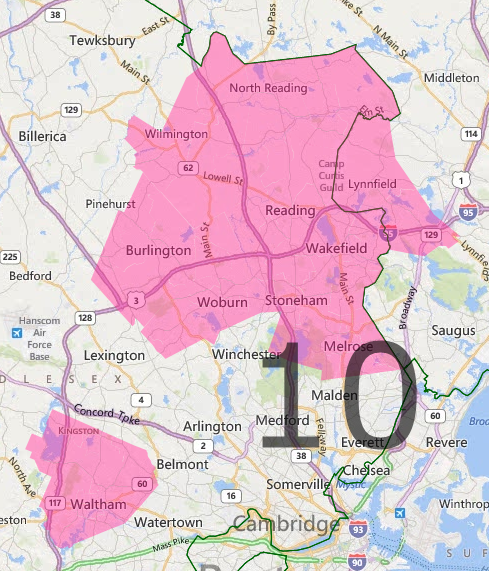 Region 10, or the 128 North corridor, is a cluster of upper-middle class towns north of Boston. Waltham was added to the region due to its similarity to Woburn and far more middle class status than the highly affluent towns surrounding it. Because of their highway access, towns along 128 North in Region 10 are home to numerous of office parks. Woburn and Waltham are the most relatively downscale suburbs in the region, but their Median Household Income of ~$73,000 still places them each at ~$7,000 above the Massachusetts average of $66,658.

Region 10 has a significant Italian population; every town in the region is at least 20% Italian. Italian-American and prominent Massachusetts Republican Richard Tisei was raised and still resides in Region 10 (Senator Tisei grew up in Lynnfield and lives in Wakefield).

Region 10, which cast a similar, but slightly smaller, percentage of the state's votes in 2010 as it did in 1984, represents a potential growth area for Massachusetts Republicans. The Massachusetts GOP performs most strongly in middle-to-upper-middle class, white collar suburbs, which categorizes Region 10. In an encouraging sign, both Romney and Brown over-performed Reagan by at least 3 points.
11. Newton and Brookline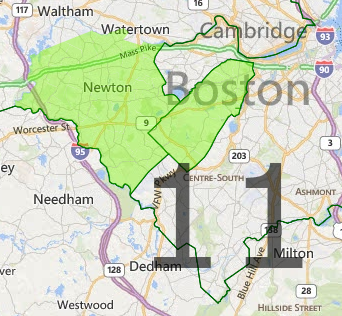 I Heard You Came from Brookline (open this link in a new tab for a song). Region 11, the epicenter of old money Massachusetts white shoe liberalism, is made up of the railroad suburb of Newton and the streetcar suburb of Brookline. Newton and Brookline are both heavily Jewish and highly affluent, although Newton is more affluent than Brookline (which has larger immigrant and student populations that Newton does). The towns have some of the state's best public high schools. Also, portions of both Newton and Brookline are home to some of Boston's oldest money (the Chestnut Hill zip code, which spans portions of Newton, Brookline and Boston, is particularly wealthy).

In 1982, Congressman Barney Frank's district, which stretched from Brookline and Newton through MetroWest all the way to Leominster, Fitchburg, and Gardner, was merged with Republican Congresswoman Margaret Heckler's Southeastern Massachusetts/SW Boston Suburbs district. The only towns Frank kept from his old district were Brookline and Newton, yet Frank won re-election by winning Newton and Brookline by 34,000 votes, 5,000 more votes than the 29,000 vote margin he won the district by. Similarly, in 2012, Republican Sean Bielat lost the 4th district's non-Newton and Brookline's portion by only 556 votes, but he lost Newton and Brookline by 24,121 votes.

Bill Weld was the most recent Republican, and probably the last one for many years to come, to win either Brookline or Newton in any election (he won both). Brookline and Newton combined to vote 25% to the left of the national average in 1984, and Scott Brown underperformed his statewide average by 22% in 2010. While Newton and Brookline haven't trended left much over the past 30 years, they've all but bottomed out for the GOP and there's little hope for improvement there in the coming years. Thankfully, they cast a slightly lower percentage of the state's votes in 2010 than they did in 1984.
12. Blue Collar North

Region 12 is made up of Boston's northern, inner-ring, blue collar suburbs. Region 12 is probably the least affluent of any region in suburban Boston, and Everett is one of Boston's most downscale suburbs.

In recent years, Somerville's blue collar whites have been largely replaced by hipsters drawn to Somerville's relatively cheap housing stock. Similarly, Medford has attracted hipster populations and maintains liberal politics (Tufts University is in Medford in Region 12). Malden is where Ed Markey has "lived" when he's not hanging out in Bethesda serving in DC.

Region 12 has also become far less white since the 1980s, including both lower-middle-class Asians priced out of Cambridge moving to Watertown, Medford, and Malden, and lower-income Hispanics moving up from Chelsea, a low-income industrial area and the poorest town in metro Boston, to better housing and schools in Everett, Revere, and Malden. Region 12 cast significantly fewer votes in 2010 relative to the state total than it did in 1984.

Weld's strong performance in Region 12 is one of the mysteries of this article. Perhaps Region 12 would likely have voted more Republican in 2010 than it did in 1990 if it were as white as it was it had been, but the GOP margin has clearly slipped there due to population changes.
13. Non-Route 2 MetroWest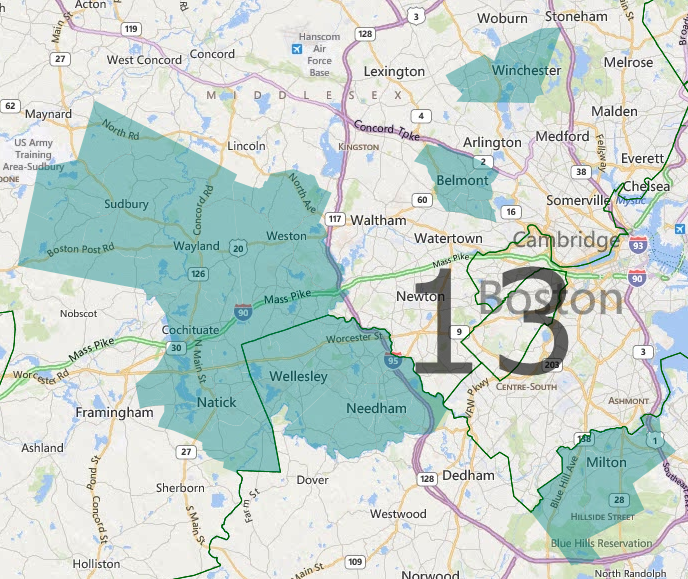 Region 13 is home to Boston's wealthy western suburbs. Region 13 is the white shoe counterpart to the similarly wealthy–but more academically oriented– Route 2 corridor. Also like the Route 2 corridor, Region 13 has a significant Jewish population and a small, but growing, Asian population.

Wayland, Sudbury, and Natick are part of Metrowest: a cluster of (relatively) lower-density western Boston suburbs situated around Framingham. Weston is a low-density suburb home to many of Boston's largest homes and most spacious estates. Wellesley, home to Babson, Olin, and Wellesley Colleges, and Belmont are both home to some of Boston's oldest money and also more academically-oriented than the rest of Region 13 (but not as much as the Route 2 corridor does). Winchester, Belmont, and Milton are more similar to the rest of Region 13 than they are to the regions containing their surrounding towns, so they were added on even though they are all geographically removed from the region's center.

Region 13 cast almost the exact same percentage of the state's votes in 2010 as it did in 1984.

Region 13's more-professional bent and even greater wealth makes it vote more Republican than the Route 2 corridor, but it's still a reliably Democratic area. While Reagan, Weld, and Romney all won it handily, the GOP collapsed in Region 13 in the early 2000's. That Scott Brown subsequently lost it in 2010 should be alarming to Massachusetts Republicans, because it may signal the death of the Weld/Romney-like path to victory that runs through normally Democratic upper-middle class and wealthy suburbs.
14. Boston and Cambridge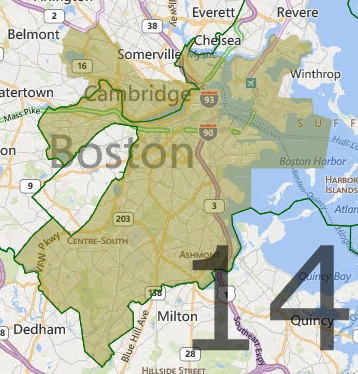 Region 14 is comprised of the cities of Boston and Cambridge. While Cambridge did not fit perfectly with Boston, sticking it in Region 14 was preferable than putting it in with the Route 2 suburbs due to its generally urban nature.

Simply put, Region 14 is mostly a dead zone for the GOP. Cambridge, a city largely centered around education and research, is one of the nation's most liberal cities. Its having voted for Bill Weld over John Silber provides a clear case study of how repugnant Silver was to normally reflexively Democratic liberals. Republicans running on a blue collar coalition, such as Scott Brown, have performed strongly in areas of Boston full of conservative Democratic Irish voters. However, gains in those areas have been more than canceled out by Boston's minority growth.

Luckily for the GOP, Boston and Cambridge cast fewer votes in 2010 than they did in 1984. The most the GOP can do going forward is to hope that Democratic turnout tanks in Region 14 in 2014 and beyond.
15. Southwest Suburbs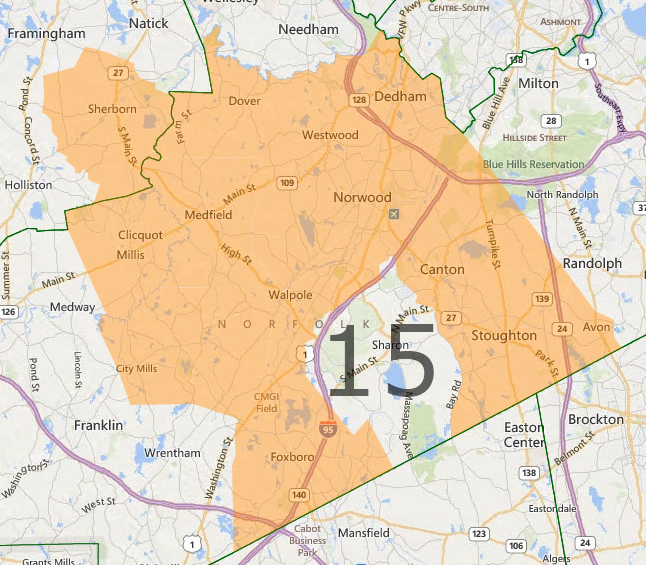 Region 15 is made up of Boston's upper-middle class, white collar southwest suburbs. Dover is home to some of the state's oldest Republican money, but much of the region's wealth is newer money. For example, Medfield is a popular choice for professional athletes looking for a large house within driving distance of Boston and Foxboro. Due to Sharon's being excluded, Region 15 only has a small Jewish population, which helps explain why it votes so much more Republican than other similarly affluent regions of the state. Heavily Jewish Sharon is considerably more Democratic than any town in Region 15, showing the effect of a large Jewish population on a suburban Boston town's voting patterns.

Unlike the Route 2 corridor and MetroWest, Region 15 grew in population and share of the statewide electorate between 1984 and 2010.

Region 15 is the GOP's strongest region in the Boston suburbs, and will continue being an important part of any GOP victory coalition. Weld underperformed there, as he did in the socioeconomically and demographically similar (read: Irish) South Shore, reinforcing that Weld's only reason for victory was the complete revolt of otherwise Democratic-voting, white shoe and academically-oriented liberal areas.
16. Blue Collar South

Region 16 is a middle class region sometimes known as the "Inner South Shore." The Inner South Shore was the landing spot of most of the earliest Irish Catholics to leave South Boston and Dorchester in the 1930s through the 1960s. Many of its more successful natives have moved to the outer portion of the South Shore.

Region 16 cast a slightly lower percentage of the state's votes in 2010 than it did in 1984, and it's lost population to the rest of the South Shore.

Its towns include Quincy, Weymouth, Holbrook, Braintree, and Randolph. Quincy has a legacy of shipbuilding, but has grown in the healthcare and insurance sectors in recent years. Quincy is home to one of suburban Boston's largest Asian populations. Also, like nearby Brockton, Randolph was once a major shoe and boot manufacturing city. Randolph today has one of suburban Boston's largest, and fastest growing, black populations.

Any Republican winning on a blue collar coalition won Region 16 by mid-to-high single digits. Brown's improvement over Reagan there should be encouraging to the Massachusetts GOP.
17. South Shore
Region 17 is the South Shore, a string of affluent, (mostly) waterfront suburbs south of Boston. The South Shore, an Irish Riviera home to many a nuveau riche transplant originally from South Boston, is home to much of Boston's Irish Catholic money. In fact, in recent years, Town of Scituate was declared the most heavily Irish town in America (47.5% of Scituate residents declared their ancestry as being primarily Irish in the 2010 Census. It's likely that a much higher percentage of the population in Scituate, and in the rest of the South Shore, is of Irish descent.

While Ronald Reagan, Mitt Romney, and Scott Brown performed strongly on the South Shore, Bill Weld did not. Reagan and Brown's strong performances (Romney's best performance statewide was in Region 17) and Weld's weak performance on the South Shore reveal that, unlike in the rest of the wealthy suburban areas in Massachusetts, Weld's slick style and social liberalism did not play well on the South Shore.

The South Shore has become a GOP base area and expended its share of the state's electorate between 1984 and 2010. While many of its new money Southie transplants are Republicans, plenty bring their Democratic voting habits with them. It's possible that, as that generation retires and moves elsewhere, the South Shore will become even more solidly Republican.
18. Southeast Massachusetts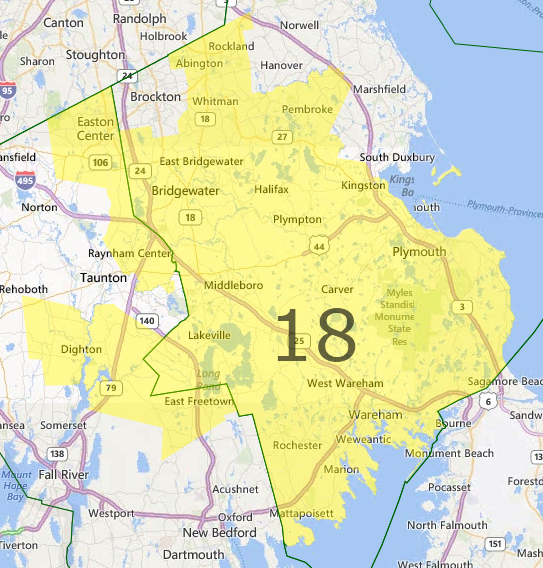 Region 18 is Southeastern Massachusetts. Much like Region 2, most of Region 18 is made of of small, picturesque New England towns with conservative leanings. Bridgewater, Carver, Halifax, Lakeville, Middleboro, Plympton, Raynham, Rochester and Wareham are Massachusetts' Cranberry Country towns (Lakeville is home to Ocean Spray). The northern portion of the region also functions as exurban Boston.

The area grew in population and share of the statewide electorate between 1984 and 2010.

Region 18 was the most Republican part of the state in both Reagan's and Brown's wins, but Weld underperformed there. If Southeastern Massachusetts keeps trending right and Fall River and New Bedford keep shrinking, Southeastern Massachusetts could send a Republican to Congress within the next decade or two.
19. South Coast

Region 19 is the South Coast, a region made up of the blue collar towns surrounding the worn down mill and fishing towns of Fall River and New Bedford. Fishing has historically been the main industry in the region, but the medical manufacturing and marine research sectors there have been growing in recent years. UMass Dartmouth grew after it was added to the UMass system in the late 1980s, and today UMD is an important part of the region's economy. The South Coast is one of the most Portuguese parts of America, and Portuguese have dominated the region's fishing industry for over a century.

Region 19 only cast a marginally larger percentage of the state's votes in 2010 than it did in 1984.

The South Coast is the perfect case study of a region where a blue collar Democrat like John Silber running against a socially liberal Yankee Republican ran significantly better than a white collar liberal like Martha Coakley running against a Republican with blue collar appeal like Scott Brown did.
20. Smaller Mill Towns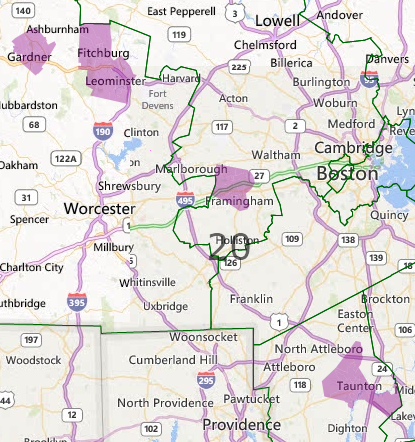 Region 20 is made of the large mill towns of Fitchburg, Gardner, and Leominster in Central Massachusetts, Taunton in Southeast Massachusetts, and Framingham (a semi-industrial MetroWest exurb that didn't quite fit in anywhere else). Fitchburg historically produced paper, Gardner built furniture, Leominster made combs an then plastics, and Taunton was once the epicenter of the American silver industry.

Like many of Massachusetts' industrial areas, Region 20 has shrunk over the years, and its immigrant population has grown. Subsequently, it cast fewer votes in 2010 relative to the state than it did in 1984.

The people of these large towns are generally white and working class, although Framingham now has a large Hispanic population due to its being home to most of the only cheap housing in MetroWest. While Framingham has a particularly large Hispanic population, that population is growing region-wide.

While Bill Weld tanked there, Region 20 was an important part of the Republican victory coalition in the other three elections. Any Republican hoping to win on the backs of blue collar voters must win Region 20. While Brown's particularly strong performance there was encouraging, low minority turnout in a special election may provide Republicans a bit too much hope. While Region 20's whites are likely more willing to vote Republican than its whites were 20-years-ago, the growing Hispanic population could spell trouble for the GOP there.
21. The Cape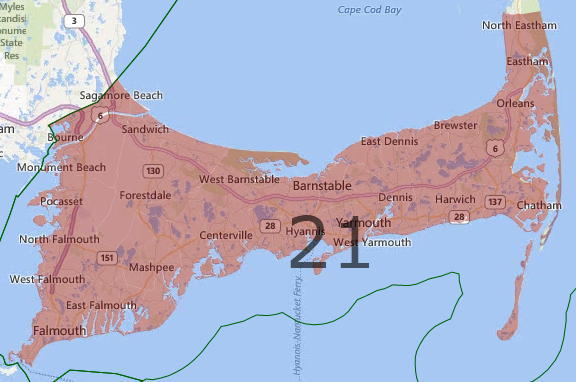 Last, but not least, is Region 21: Cape Cod. This region is made up of small, idyllic New England resort/retiree towns. There is also some fishing here, although the economy is significantly more tourist-dependent.

Cape Cod is a politically and culturally divided place between staunchly liberal, affluent retirees and solidly conservative, blue collar locals.

Region 21's share of the state's electorate grew by a significant percentage between 1984 and 2010, but it's turned in an incredibly consistent performance for victorious statewide Republicans. Reagan, Weld, Romney, and Brown each won between 57.69% and 59.92% of the vote on the Cape.
Conclusions and 2014 Analysis
While the more blue collar oriented Republican coalition worked well for Scott Brown in '10, a victory coalition that combines elements of Mitt Romney's and Brown's could work for Charlie Baker in 2014. While Baker does not have Brown's level of blue collar appeal that allowed Brown to perform so strongly in blue collar areas, he may have more white collar appeal than Brown did. His experience as the CEO of Harvard Pilgrim Healthcare, his Harvard education, and his promises to focus on the state's finances, ignore social issues, and to govern responsibly without dramatic tax cuts could help him over-perform Brown in many affluent, white collar Boston suburbs where Romney far outpaced Brown. Additionally, it is important to note that Baker is running in a state election and Brown ran in a federal election. Many Massachusetts voters would vote for the right Republican for state office but never for federal office. This could allow for Baker to replicate Romney's '02 victory.
Maps and Data
Scale: 50-55%, 55-60%, 60+%
Reagan '84 by Region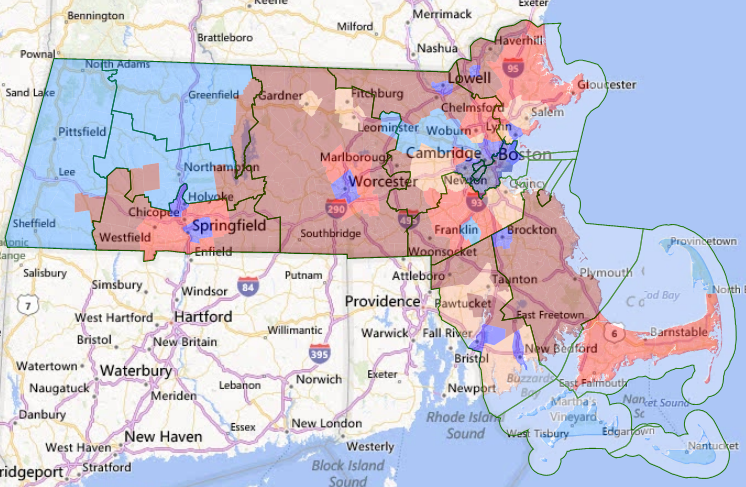 Weld '90 by Region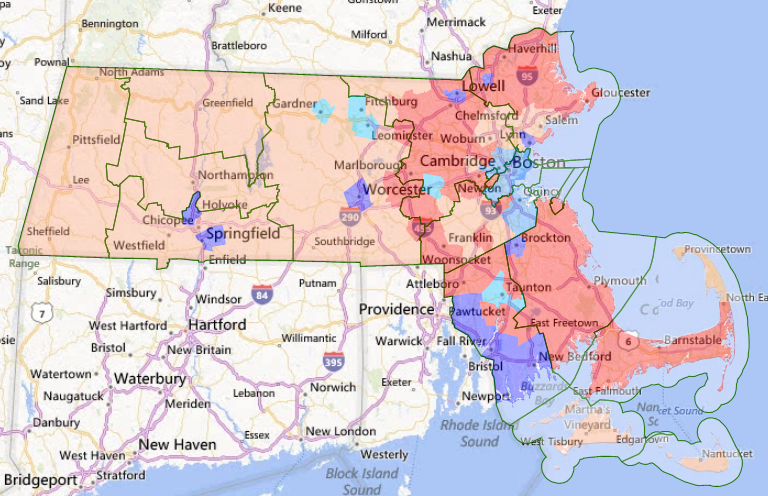 Romney '02 by Region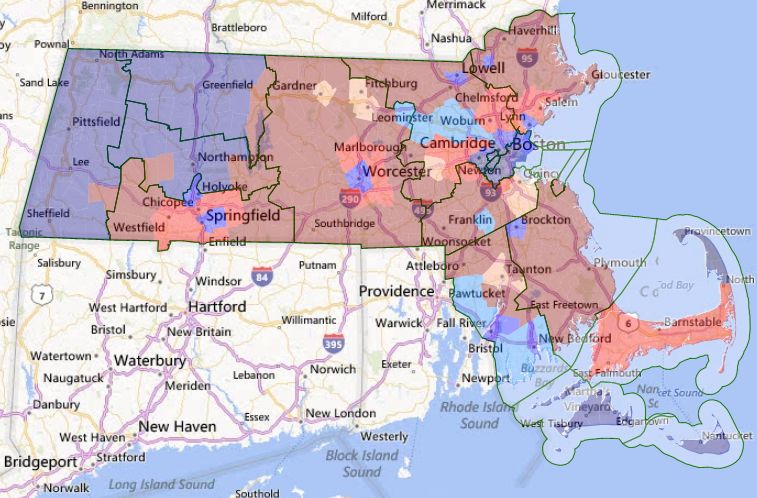 Brown '10 by Region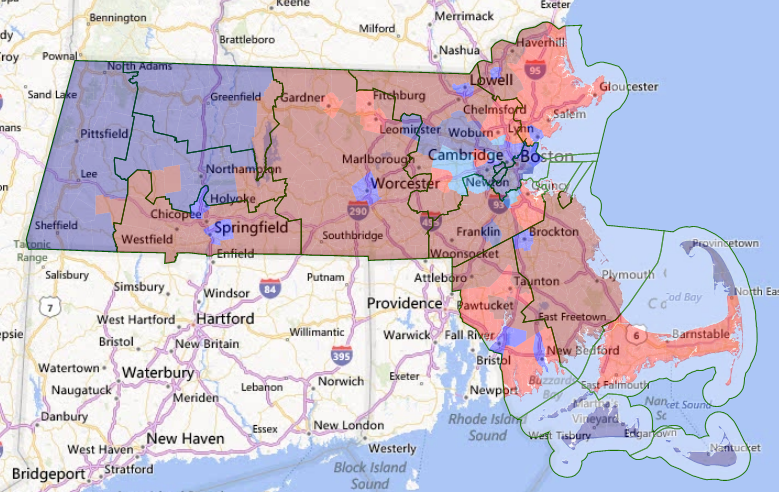 Election Data by Region
To get in touch with me regarding this piece: wfdeacons12@gmail.com