(This is a MUST READ. – promoted by Rob "EaBo Clipper" Eno)
This was crossposted from RedRacingHorses.com, an elections blog that really appreciates the work you guys do here at RMG!


Here's the Boston Red Sox's theme song by quite the Massachusetts band, the Dropkick Murphys.


My favorite Scott Brown ad, and the absolute turning point of his 2010 campaign.
Background
January 19th, 2010 was one of the most exciting nights of many dedicated Republicans' lives. Watching then State Senator Scott Brown (R-Wrentham), one of only five members of the State Senate Republican caucus at the time, defeat Massachusetts Attorney General Martha Coakley was thrilling, especially considering the seat he won had been Ted Kennedy's months before. Brown knew he'd have his work cut out for him if he wanted to be reelected in 2012, but he earnestly set off across the street in his trademark pick up truck in an attempt to convince the residents of the Bay State that a "Scott Brown Republican" could represent them better than any Democrat could.
Brown had two real options as to which coalition he could try to forge to reach 50.1% of the statewide vote. Brown's first option was to outrun generic Republicans in the middle class to wealthy suburbs and exurbs around Boston, Worcester, Providence, and Springfield. Bill Weld's 1994 and Mitt Romney's 2002 gubernatorial races are excellent examples of when such a strategy worked well for a Republican candidate running statewide. Brown's other option was to follow Paul Cellucci's 1998 model of running ahead of generic Republicans in the ethnic, working class communities around the state, especially in Boston neighborhoods like South Boston and Dorchester, Boston suburbs like Quincy, Braintree, and Malden and mill towns like Lowell and Fitchburg while running strongly enough in but not necessarily focusing on exurban areas like Tewksbury and Norwood. Brown's 2010 coalition decidedly followed the first route, but his 2012 coalition failed in its attempts to replicate his overperformances. Brown needed to run, at worst, 2.29% behind his 2010 performance but ended up running 6.12% behind. Brown also needed to overperform Mitt Romney by 11.03% but only ran 8.63% ahead. Disappointingly, Brown ran sufficiently ahead of McCain in a grand total of 0 of the 15 regions, meaning that his underperformance of how he needed to perform was spread across the commonwealth. Democratic turnout was just too strong.
For the purposes of this diary, the Commonwealth of Massachusetts has been broken down into 15 semi-geographical and semi-cultural political regions. Some are more geographical than others and some are more cultural than others, but they represent the different communities in the Bay State quite well.
Below the fold, the 15 political regions of Massachusetts will be explained and Brown's performance in 2010 and 2012 in each of them will be analyzed.
Massachusetts' 15 Political Regions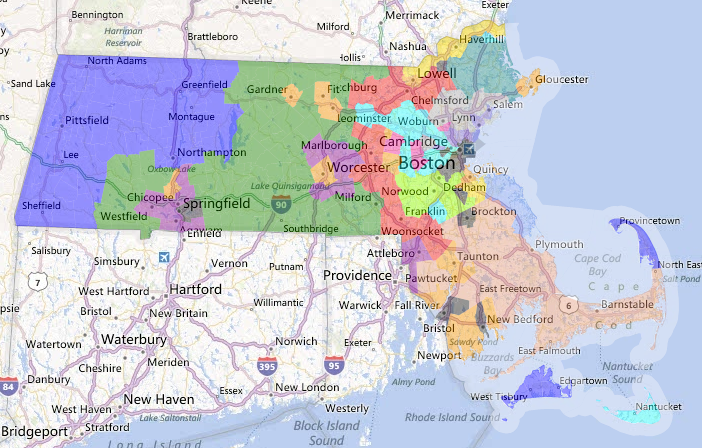 Data by Region

Note: Here's the spreadsheet I created on Google Documents. https://docs.google.com/spread…
Statewide Data
Region 1: The Berkshires, College Towns, and Summer Retreats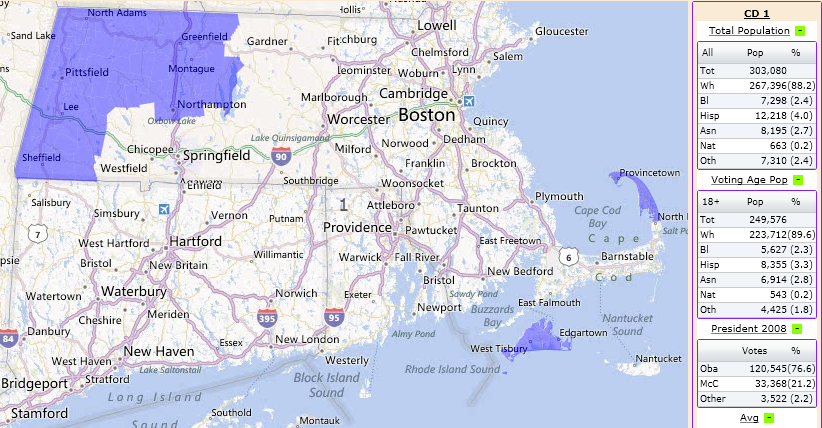 This region is mostly made up of Berkshire, Hampshire, and Franklin Counties in Western Massachusetts but the end of Cape Cod and Martha's Vineyard were tacked on because of their similar voting patterns and their common characteristics of being resort towns full of liberal artists and former hippies. Once competitive for the GOP, Appalachia without religion, as I like to think of it, with its college towns, artist towns, and rural poverty has slipped away from the GOP rapidly in the past half century.

Region 1's Election Stats and Analysis

This region is the least Boston influenced of any area of the state. Scott Brown overperformed John McCain by the least of any of the 15 regions and overperformed Mitt Romney by the 14th most of the 15 regions. Romney didn't drop hard here, but he also didn't overperform very well here in either election. Brown did a little campaigning in Pittsfield, but wisely didn't spend much time here because of its reflexively Democratic nature. This area also trended nearly two points leftwards in PVI in 2012, seeing as John McCain did better than Mitt Romney here by .1%.

Region 2: Small Town Central Massachusetts
Region 2, which is comprised of classic small New England towns, is more economically stable and connected to the rest of the world than Region 1 is but is still outside the Boston bubble. It's politically moderate on a federal level and is fairly Republican on a state level, but, in the words of BostonPatriot, "it has a low BS meter–a slick Boston-area Republican like Weld won't run as well here. You could almost call this Baja New Hampshire. Brown is an exceptional fit for this region and had his second highest overperformance over McCain here."

Region 2's Election Stats and Analysis

Region 2 was the 2nd best region for Brown overperforming McCain in 2010 and the 5th best for his overperforming Romney in 2012, and Brown ran nearly 9 points ahead of Mitt Romney here. Needlessly to say, Brown did quite well in the small towns of central Massachusetts compared to Romney. This area also trended slightly rightwards Presidentially, but There was a lot of hope that Romney would do quite well here and that Brown would do better than his 6.39 point underperformance of his 2010 performance here. All else equal, Brown needed to run nearly 4 points better here. Out of the 15 regions, Brown's drop was 11th most dramatic here. Nevertheless, he ran strongly here.
Region 3: Suburbs of Worcester, Providence, and Springfield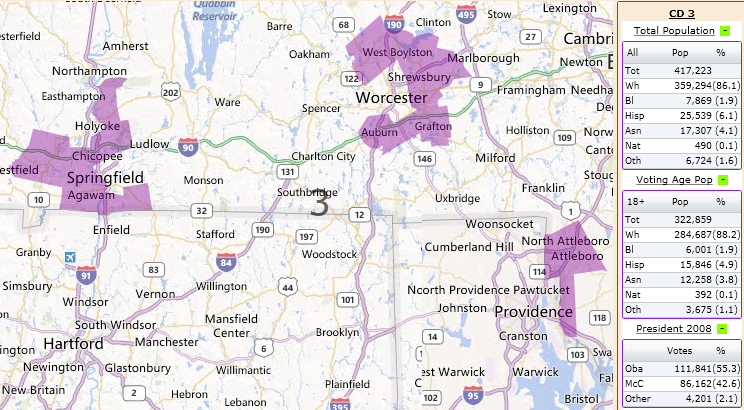 While these suburbs lean Democratic, they are, of course, an important part of the GOP's coalition in Massachusetts. In BostonPatriot's words, "There's more money here than in region 2, but it's not nearly as cosmopolitan as the Boston suburbs and you still have small-town sensibilities dominating the mindset. Another great region for Brown."

Region 3's Election Stats and Analysis

Brown's home region was another mixed bag for him in 2012, at least in terms of its comparison to his 2010 performance. His drop from his 2010 performance was 10th out of the 15 regions, and he dropped here more severely than he did in most regions. However, Brown ran nearly 9.5 points ahead of Mitt Romney here, making it his 2nd best performance as compared to Romney of any region in the state. This region was also fairly stable in terms of its presidential trend, seeing as Romney's performance over McCain here was only slightly higher than it was nationwide.
Region 4: I-495's Exurban Ring Around Boston
The Boston exurbs, like most exurbs, generally tend to be populated by a mix of wealthy whites who like spacious homes, large plots of land and upper middle income families who can't afford to live in affluent areas closer into the city (think of Andover as a perfect example of a town in this region). The commute from the 495 belt is atrocious by car but schools its are great, its towns are safe, and its communities are close knit. There are plenty of moderate, swingy voters here and any Republican running statewide has to overperform in the 495 belt in order to win. This region is also growing in population and in importance in statewide politics.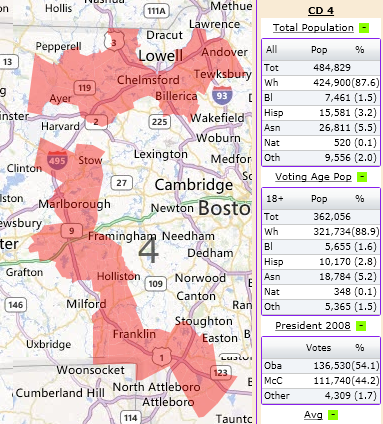 Region 4's Election Stats and Analysis

Romney ran nearly 10 points behind Brown here, and actually held up fairly well (though not as well as he needed to), only running about four points behind his strong 2010 performance. Region 4 was Brown's 4th best performance relative to McCain in 2010, but he obviously proved to these voters that he did a darn good job in office. This region definitely didn't disappoint in 2010.
Region 5: Blue Collar Conservatives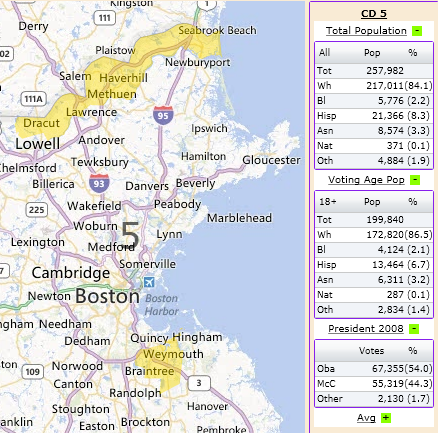 Region 5 is comprised of a mix of the Merrimack Valley's mill towns and the blue collar havens of Quincy and Weymouth on the South Shore. While I'm not sure if they were actually strongly Reagan Democrat towns, these towns are very ethnic and are largely populated by ConservaDems. Long thought to be trending Republican, Mitt Romney barely overperformed John McCain in this region. As BostonPatriot noted, "There would be a huge discrepancy between Brown-Markey and Weld-Lynch numbers here."

Region 5's Election Stats and Analysis

In 2010, Brown overperformed McCain most in this blue collar, heavily ethnic and Catholic. He ran an eye popping 19+% ahead here. However, he dropped the second most of any region here. Nevertheless, Brown did fairly well here but not well enough. At the same time, it trended slightly leftwards Presidentially, casting some doubt about the future of the GOP in the blue collar portions of MA.
Region 6: The Nawth Shaw
Region 6, the North Shore's affluent exurbs, has traditionally been the GOP's strongest region in Massachusetts. Affluent and spacious, towns like Boxford and Georgetown gave large margins to Richard Tisei and Scott Brown. Boxford was even the only town to vote against John Kerry when he ran for reelection against token opposition in 2008. Ipswich and Manchester-by-the-Sea are Democratic leaning, but Richard Tisei won both of them in his race for Congress. The North Shore, which is Republican leaning already, will swing heavily for a socially moderate, fiscally conservative Republican. If John Tierney loses in 2014, it's because this area will show up like gangbusters for Richard Tisei (even in a midterm).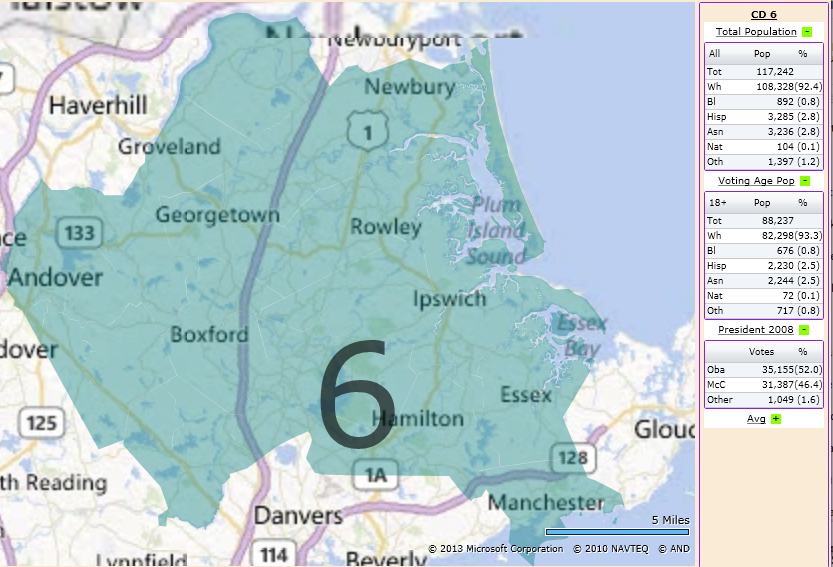 Region 6's Election Stats and Analysis

Brown ran rather well on the North Shore, although he ran slightly behind his statewide average of Romney overperformance at 8.02%. He held up fairly well from his 2010 performance here, but his 2010 performance was not as strong as it was in some other suburban and exurban areas. That being said, Mitt Romney improved by nearly 5 points here over John McCain, doing impressively with the North Shore's swingy voters. That gave Brown less room to improve over Romney, so Brown's 8% overperformance was even more impressive when that fact is considered.
Region 7: Boston's Northern Suburbs
Region 7, Boston's northern suburbs, is a mix of blue collar and middle to upper-middle income towns. Reading, Marblehead, and Swampscott have quite a bit of old money. This area leans Democratic on a whole but but Republicans have to reach the mid-50's here to win statewide. This is a region where Weld and Romney '02 did better than Brown.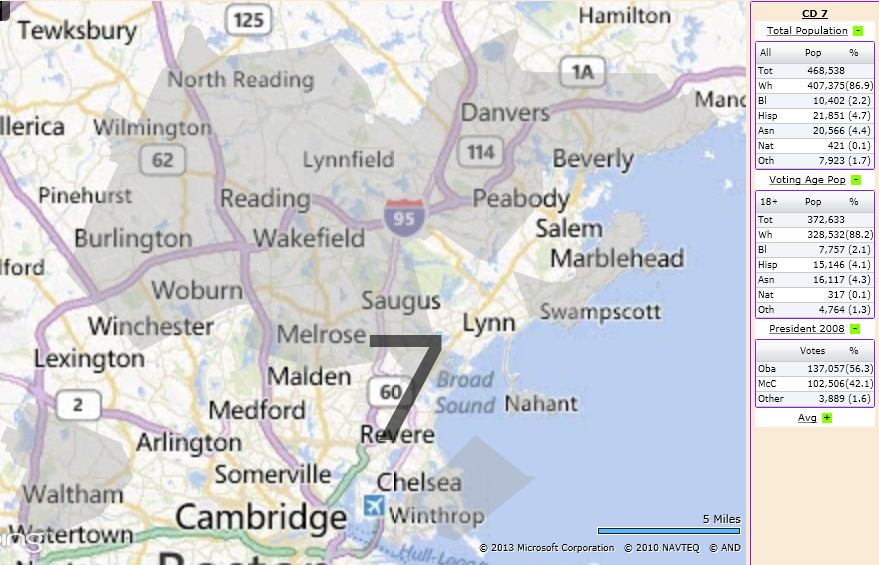 Region 7's Election Stats and Analysis
Continuing a familiar trend, Boston's northern suburbs were his 4th best performance in terms of overperforming John McCain. Brown overperformed Romney 4th most of any region here in 2012 and overperformed McCain 9th most here in 2010, so his performance relatively went up, and he held up well here.
Region 8: Boston's Northern Inner Ring Suburbs
Region 8 is comprised of the heavily ethnic, heavily blue collar towns north of Boston. Yes, Somerville isn't a great fit but isn't wealthy enough to fit into Region 9. The inner ring northern Boston suburbs are heavily Democratic leaning, but some see promise for the GOP in these towns. It's fairly ironic that such a heavily Catholic, working class area could spawn Ed Markey, a "resident" of Malden who is absolutely hellbent on creating new environmental regulations. Some white flight may be happening here, seeing as MItt Romney did more than two points worse than John McCain did here, although McCain's personality was certainly a better fit than Romney's in this working class area.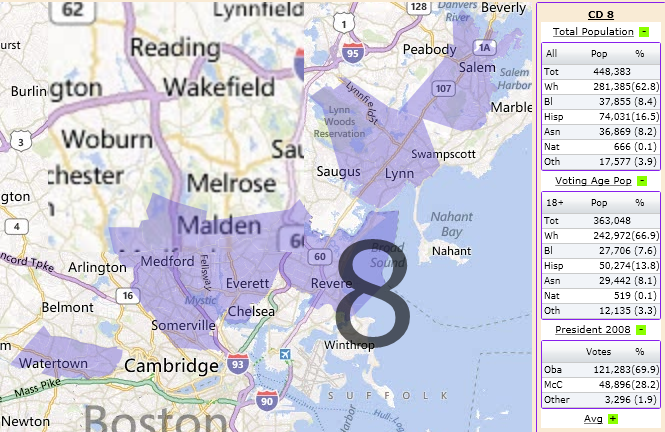 Region 8's Election Stats and Analysis

Region 8 was one of the first areas that really killed Brown. His "Professah Warren" and "Lieawatha" schtick was tailor made for areas like this, full of culturally conservative, New Deal loving voters but it clearly didn't stick. Brown fell by nearly 7.5 points here and this region trended left to boot. He also ran relatively weakly here in 2010. Those calling for a blue collar future for the Mass GOP need to figure out why the "Professah Warren" thing didn't stick and how to grow the GOP in these towns, something I see as a fool's errand.
Region 9: Route 2 Corridor
(note: Newburyport and Nantucket not shown)
Latte liberal heavy Region 9, comprised of the MetroWest/Route 2 corridor and Boston's wealthy streetcar suburbs like Cambridge, Brookline, and Newton, is generally rough territory for the GOP but will swing for a socially liberal, fiscally moderate Republican in the mold of Bill Weld. Heavily Jewish and highly affluent, Region 9 is home to tens of thousands of graduates of the Boston area's 50+ colleges who stayed to work in the area. This area is a lot like suburban DC in that its residents are less likely to have grown up in the area than other places. Succinctly, it's very transient.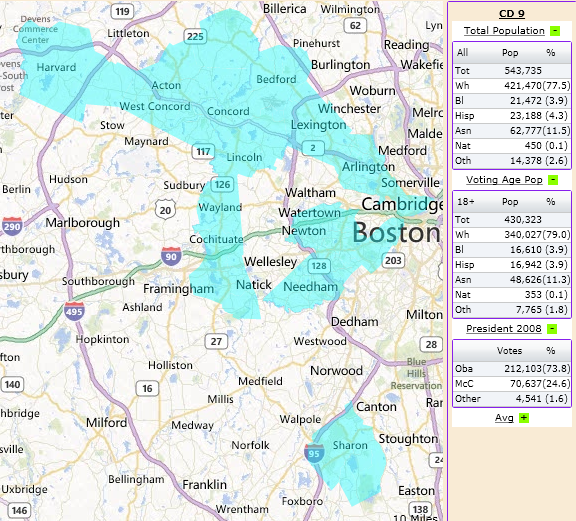 Region 9's Election Stats and Analysis

The Route 2/Metrowest area (and Sharon and Newburyport thanks to their shared voting patterns and demographics) was mixed news for Brown in 2012. While he held up quite well here (and actually improved over 2010), despite his "Professah Warren schtick that was surely a turnoff to many potential voters here, he still underperformed what he needed to to win statewide. Nevertheless, Brown's populist appeal for regions 5, 8, 14, and parts of 14 didn't turn off these voters. His standing as a moderate, but not a moderate in a Weld/Romney mold, also didn't cause his share to drop here. Could he have tried to make some inroads here if he had styled himself differently or focused on these areas? I tend to think so, although showing some attention on this region alone won't win him a race statewide. It'd certainly help, though.
Region 10: Extremely Affluent Towns
Region 10 is a lot like Region 9 but even more affluent, less Jewish, and more Republican. While Democratic leaning, especially in Sudbury, the four towns of Winchester, Wellesley, Weston, and Sudbury are all winnable by the right Republican. A winning Republican, unless they are relying on overperformances in the blue collar regions, should carry this region.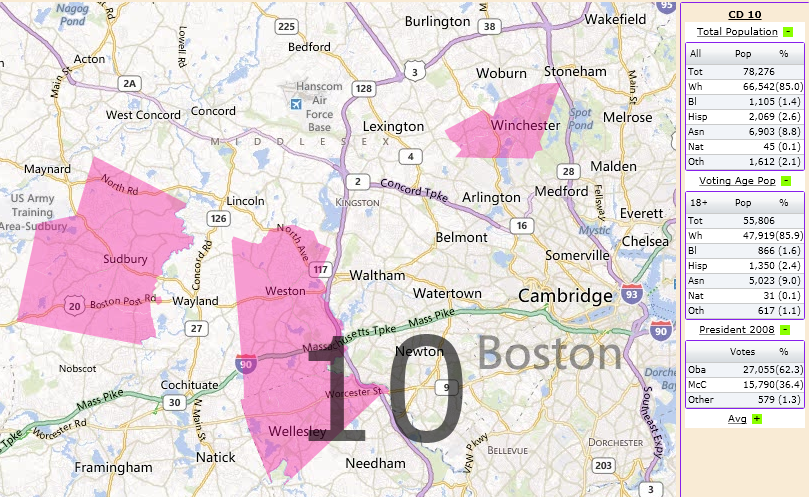 Region 10's Election Stats and Analysis

This region was quite similar to region 9, although Brown performed better here on a whole than he did there seeing as these towns are more heavily GOP. Interestingly enough, both regions trended right although Region 10 trended 6 points rightward Presidentially (matching the trendlines of the wealthy Farmington Valley in neighboring Connecticut) while Region 19 trended just over two points rightward.
Region 11: Norfolk County's Boston suburbs
Region 11, southwest suburban/exurban Boston, is largely upper-middle income. Milton does not fit well into other regions, but outside of Milton this region is similar to region 7 but slightly wealthier and slightly more conservative. The GOP actually has a registration advantage in Dover, an absolute rarity in Massachusetts. This region swung hard towards Romney and it is indisputably trending Republican.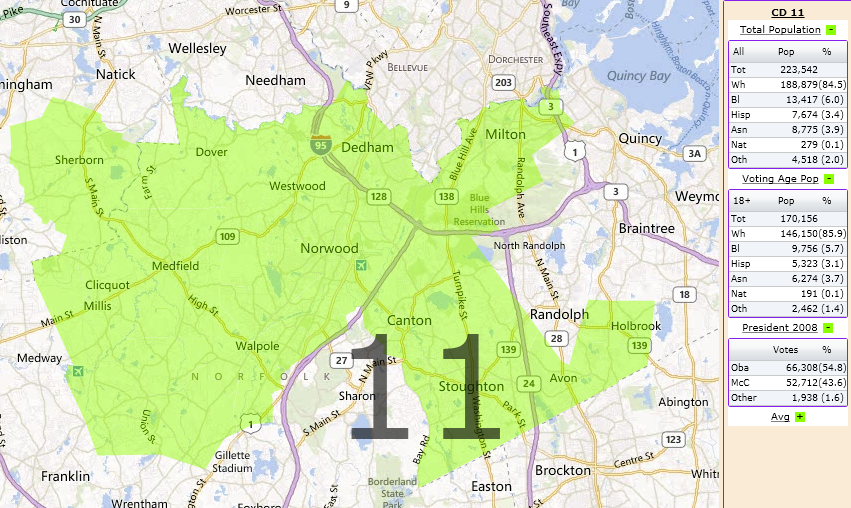 Region 11's Election Stats and Analysis

Like in other suburban Boston regions, Brown ran far ahead of Romney here. I'd have hoped that Mitt Romney would have improved over John McCain by more than the 2.21% that he did, but Brown ran a solid 8.69% ahead of Romney. A few of these towns were in his State Senate district.
Region 12: South Shore
The coastal towns of Region 12 are largely populated by upper middle class Irish Catholic, former Dorchester and South Boston residents who did well enough to move out onto the South Shore. The town of Scituate is actually supposedly the most heavily Irish town in the country. Hingham and Cohasset have more money than the rest of the South Shore, but there is definitely some affluence through the South Shore. This area is Bob Hedlund's base. This is one of the GOP's bread and butter (or steak and potatoes?) regions and will grow in importance as it trends right. Scott Brown's fundraising was eye popping here.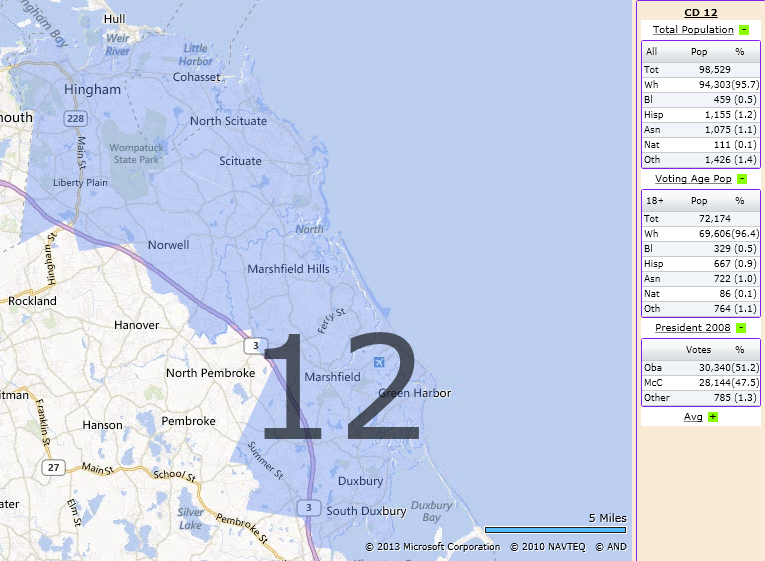 Region 12's Election Stats and Analysis

All in all, Region 12 was a winner for the GOP in 2012. Romney overperformed McCain by nearly 5 points here, and Brown outran Romney by over 8 points here, above his statewide average. Considering how many swing voters Romney won over here, Romney's overperformance here was downright impressive, even if he didn't quite reach the 9+% overperformances he reached elsewhere.
Region 13: Cranberry Country and the Cape
BostonPatriot explained this region, one I haven't been to for years, quite well. "These are small towns mostly outside the Boston bubble. Like the South Shore, it's pretty reliably Republican–you can draw a solid McCain congressional seat down here. Cape Cod can be tricky–they're very parochial and thoroughly moderate–but most of the Cape towns fit well with the rest of the region."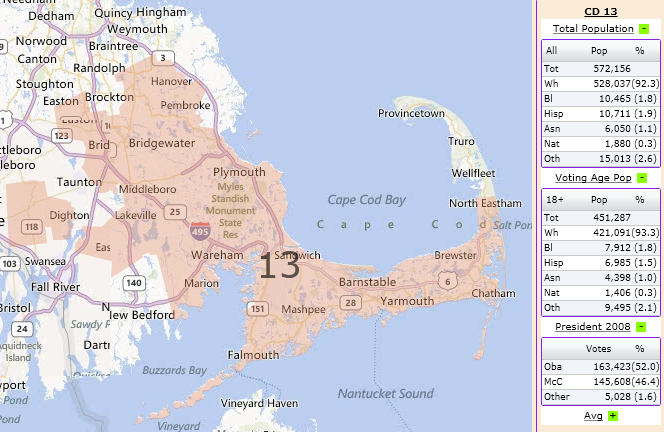 Region 13's Election Stats and Analysis

This region trended about a rightward compared to the nation as a whole in terms of Presidential numbers, but Brown's 7.64% performance here was unacceptable, especially seeing as he should have cleaned up against a MetroWest, urban progressive like Liz Warren both in conservative Cranberry Country and especially on moderate Cape Cod. Brown also fell 6.18% here in 2012, a disappointing drop in an area that he should have done well in.
Region 14: Minority Heavy Cities
Springfield, Lawrence, Brockton, Randolph, and the bulk of Boston are mostly non-white and are just awful for the GOP, especially in a Presidential year. Many were former manufacturing or mill towns that suffered from white flight. These areas are so poor and desolate that the GOP just has to hope they stay home so that they won't make up too high of a percentage of the statewide electorate. Brockton is emblematic of this region. Once heavily white ethnic and Catholic thanks to its shoe factories, whites left and the city is now heavily minority. The GOP has to hope that, like in Brockton, minority residents will stay home (like they generally do in midterms) and that the elderly white ethnic voters living here will turn out. This area's very similar in that way to Waterbury, Connecticut. Fall River and New Bedford heavily white but are so impoverished and unionized that they're in this region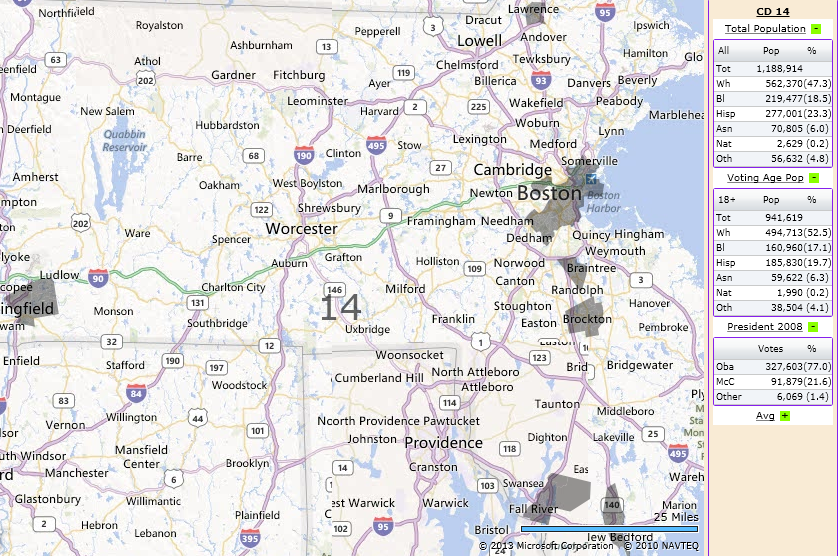 Region 14's Election Stats and Analysis

The best Brown could have hoped for here would have been lower turnout. If turnout had been lower in the heavily populated Region 14, Brown's 8-9.5% overperformances of Romney in most of the suburban regions of the state may well have been enough to propel him to victory. We've seen this pattern play out across New England in the Lynn dominated MA-06 race and in the Waterbury and New Britain dominated CT-05 race. The GOP just has to hope that these types of cities don't turn out well in a Presidential year, for whatever reason. That simply wasn't happening with Obama on the ticket, so Brown had an unreasonable haul elsewhere.
Region 15: Mill and Factory Towns
Region 15 is potentially a ticking time bomb for the GOP. While whiter and slightly–but noticeably–better off socioeconomically than Region 14, many of these towns (think Framingham, Lowell, and Worcester) have the same potential for white flight like the towns in 15 had. This is another heavily Catholic area the GOP can do quite well in, in a midterm, so long as the white population doesn't leave. Southie, Eastie, and parts of Dorchester would fit in well in this region but carving up Boston's precincts would have been a bit too time consuming for what I had time for. The results are similar, though. Additionally, just like in other New England states, the urban areas in the state trended Democratic by a scale of 3 PVI points (meaning McCain overperformed Romney by about a point while underperforming him by about two points nationwide).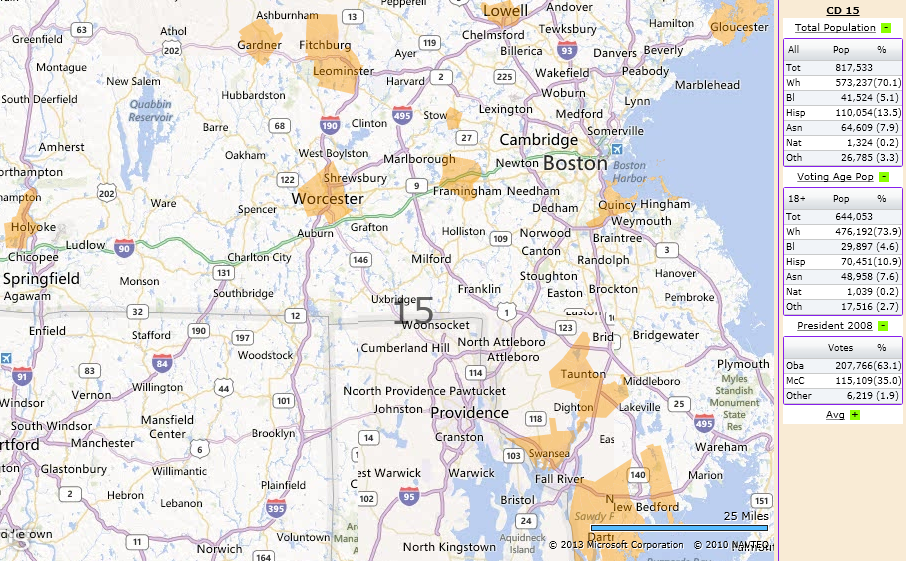 Region 15's Election Stats and Analysis

Brown's reliance on Region 15 was troubling, especially seeing as it trended leftwards Presidentially both compared to the rest of the nation and in sheer percentages from McCain to Romney. White flight and the death of old, ethnic whites may be kicking in. Brown actually ran 8.5% ahead of Romney here, an impressive total, but the fact that it trended leftwards sheds some doubt on his clear focus on areas like this through his strategic Democratic endorsements of local elected officials, his frequent stops in these towns, and his "Professah Warren" and "Fauxcahontas" strategy. If these areas trend leftwards, even more focus may need to be spent on the Boston suburbs and exurbs and the suburbs of the other cities of the state.
Conclusion
I don't want to say too much here in order to encourage a robust discussion of Brown's strategy, the future of the MA GOP, and Brown's electoral future and the strategies he should use in running those races. However, what I took away from this race is that…
Massachusetts is willing to elect not only a Senator who drunk and drove and killed someone in the process but also someone embroiled in controversy about her use of a supposed part of her heritage that was, at most, 1/32nd of her familial makeup while a law professor. The bottom line is that Massachusetts voters are far more willing to look past character flaws than voters from other states are.
Scott Brown's "Professah Warren" rhetoric and his going after Warren hard until the end for her dishonesty and her ridiculous use of her supposed 1/32nd Indian heritage did not help him in the blue collar areas of the state like he thought it should have. At the same time, Brown performed fairly strongly for a Republican in MetroWest/the Route 2 corridor and in Boston's limousine liberal streetcar suburbs.
Brown probably did well enough in most of the suburban areas of the state, as well as in central Massachusetts, as he needed to, even as the blue collar areas he targeted were generally elusive. This strong performance in the suburbs came even as Brown clearly focused on those areas while campaigning and through his overall strategy.
Urban turnout was probably too strong for Brown to win in 2012, although Boston Mayor Tom Menino sitting on his hands instead of giving a half hearted endorsement to Warren could have helped cut down Warren's margin in Boston.
What were your takeaways from the race? Please leave your feedback and let's discuss Scott Brown's future along with the future of the Massachusetts GOP and the strategies it should employ!
Note: a special thanks goes out to RedRacingHorses moderator BostonPatriot for breaking down the regions for me so precisely using DRA and for giving me his take on the various regions. While I had a fairly good idea as to which towns would constitute these areas, BP's insight and local knowledge was critical in writing this diary.
[poll id="
502
"]