( – promoted by Paul R. Ferro)
This diary was cross-posted from Red Racing Horses.

I'm a frequent RMG lurker who's never posted an article on here before, but here's my first one. I hope you guys enjoy! Keep up the good fight for the GOP in MA.
Overview
But our friends are back

So let's raise a toast

'Cause I found someone to carry me home

Tonight, we are young

So let's set the world on fire

We can burn brighter than the sun

The lyrics of Fun.'s "We Are Young" blasted in my earbuds as I rode the MBTA Purple Line Commuter Rail train up towards Salem from North Station early on a Monday morning. It was fall break at my college and I was in Cambridge staying with a friend at Harvard. He had classes interspersed throughout the day on Monday, so a few weeks before I visited the idea to go help out Richard Tisei's campaign for a day popped in my head.
The witches in Salem were brewing up a storm's worth of trouble for John Tierney during the 2012 election cycle. His claims of obliviousness to his wife's involvement in an illegal gambling operation run by her brothers out of Antigua, even as he had visited them in Antigua and his wife filed false tax returns from their condo's living room in Salem, plagued Tierney. As a Tisei staffer told me, Tierney showed up to the Salem High School turkey bowl football game for the first time he can remember, and this staffer had gone every year of his life. Tierney, who was notably absent from the swingy and Republican parts of his district for years, suddenly was back in the 6th district every weekend. Outside groups smelled blood and long-time socially moderate, openly gay, and popular former State Senator and 2010 GOP Lt. Gov nominee Richard Tisei jumped in the race.
As RedRacingHorses readers know, no race excited me more than the race to defeat John Tierney. As someone who very much likes the idea of living in Massachusetts, who can't stand John Tierney (after meeting him in DC), who likes the idea of moderates running in swingy suburban Congressional districts nationwide, and who really likes Richard Tisei's legislative abilities, I was excited to finally win a House seat in Massachusetts after 16 years without one.
For a little more insight about my trip up on the North Shore, read here: http://www.redracinghorses.com…
So, after spending a day on the ground and being impressed with Tisei's staff and his candidate abilities, I returned to Harvard confident that Richard Tisei would soon be Congressman-elect and would defeat embroiled incumbent John Tierney rather handily.
Much to the surprise of nearly everyone John Tierney eked out a win. What happened? How did Tisei lose when Scott Brown won MA-06? What lessons can we take away from the MA-06 race in 2012? Find out below the fold.
Background
Of the towns in MA-06, Richard Tisei represented Wakefield, Lynnfield, and Reading in the State Senate.
Election Results
For the purposes of this diary, I excluded the Libertarian candidate's 4% of the districtwide votes, even as he likely cost both Tierney and Tisei some votes for differing reasons, so I could work with two-way vote data throughout this analysis.
Below is a map of how each of the towns in MA-06 voted for President in 2012. Andover's being split has been accounted for and estimated, although it's possible that Mitt Romney narrowly won the 6th district's share of Andover.
Color Key:

Navy: 65+% Obama

Blue: 57-63% Obama

Dodger blue: 53-57 Obama

Sky blue: 50-53% Obama

Salmon: 50-53% Romney

Red: 53-57% Romney

Crimson: 57-60% Romney

Reddish Brown: 60+% Romney
Below is a map of how each of the towns in MA-06 voted for Congress in 2012.

Color Key:

Navy: 65+ Tierney

Blue: 58-63% Tierney

Dodger blue: 54-58 Tierney

Sky blue: 50-54% Tierney

Salmon: 50-53% Tisei

Red: 53-57% Tisei

Crimson: 57-60% Tisei

Reddish Brown: 60+% Tisei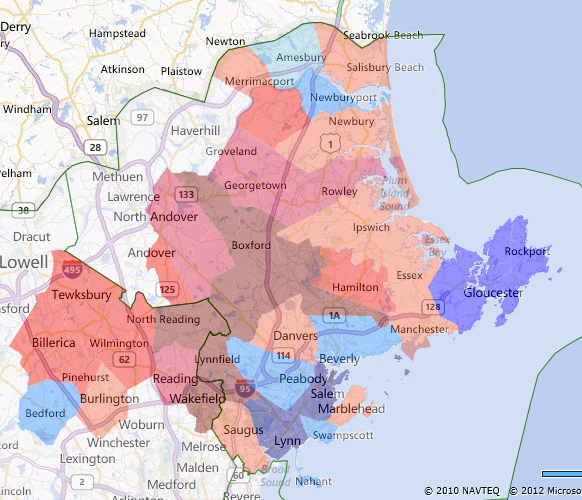 Richard Tisei ran ahead of Mitt Romney in every town in the 6th district. Below is a map that shows whether Tisei ran far enough ahead or not.
Color Key:

Blue: 0-3 points ahead

Powder Blue: 3-5.23 points ahead

Light Red: 5.23-10 points ahead

Red: 10+ points ahead
Analyzing the 2012 Election Results
Richard Tisei ran ahead of Mitt Romney in every single town and city in the 6th district. Unlike Andrew Roraback over in Connecticut, who underperformed Romney in the Waterbury area, Tisei even overperformed Romney in his opponent's base of Salem. Tisei needed, on average in each town and city, to run 5.24% ahead of Mitt Romney in the two-way vote share in order to win with 50.1%.
Richard Tisei did splendidly well in his old Senate district, running 10.4 points ahead of Mitt Romney in already ruby red, upper middle to upper income, and heavily Italian and Catholic Lynnfield (meaning he nearly got to 72% of the two-way vote share in his childhood home town). Tisei also ran 12.4% ahead of Romney in Reading and an astonishing 17% ahead of Romney in his hometown of Wakefield, which he represented along with Lynnfield in the State House from 1985 until 1991. This strong performance amongst his friends and neighbors he represented in the State House slightly lowered the bar as for how much he would have to overperform in the rest of the district to win the race.
Tisei performed slightly over or slightly under that 5.24% benchmark in most of the district's swingy, affluent exurban North Shore areas like Boxford, Georgetown, Rowley, Manchester, Essex, Newbury, etc. These towns, more conservative than the 6th district as a whole, were good personality fits for Tisei but canvassing Boxford and Georgetown in particular proves extremely difficult with some of those towns' minimum land requirements and winding, private lanes. Regardless, he performed strongly enough in these areas to win the district.
Unsurprisingly, Tierney performed relatively strongly in his home base of Salem, Lynn, and Peabody. These voters were who Tierney grew up and went to high school and college with at Salem State University, and they rewarded Tierney by allowing him to not run too far behind Barack Obama in each of those three towns. Tierney only ran .4% behind Barack Obama in rapidly diversifying and Democratic-trending (read: white blue collar voters are moving out) Lynn-, Lynn, City of Sin-. Tierney may not have been very visible in the inland towns of the district during his 8-term tenure, but he had brought back plenty of federal money to Lynn and Salem over the years. His popularity amongst the district's union officials also propelled unions to throw very vocal and visible support behind Tierney in the district's two cities.
The fishing towns of the district (mostly on Cape Ann) were a mixed bag for Tisei. While Tierney won each of them handily, he performed relatively well in Rockport and Newburyport while only overperforming Mitt Romney by 2.8 points in Gloucester. The fishing villages, especially Gloucester, are another area that had seen a comparatively large number of Tierney visits over the years and Tierney had focused on fishing as one of his signature issues in Congress. Regardless, on a whole, Tisei did well enough in the fishing villages in order to win.
The part of the district that Tisei put up a relatively disappointing, but understandably so, performance in is its western flank. While Tisei performed well in fairly blue Bedford, having campaigned during its Bedford Days Parade, exurban middle/upper middle income Tewksbury, wealthy parts of exurban Andover, along with blue collar/exurban Billerica were new to Tierney. While they were also new to Tisei, these towns provided golden opportunities for Tisei to introduce himself and run up a margin there through bringing up Tierney's issues. however, Tierney and his team campaigned in Tewksbury in the campaign's waning days and seemed to focus on these areas. Tisei slightly underperformed that 5.24% benchmark in these towns, but they should have provided an opportunity to get to 8-9% overperformance. Interestingly enough, similarly blue collar Saugus also showed a Tisei underperformance like Billerica did, meaning that Tierney's originally working class roots in Salem may have helped him in these areas.
Conclusion and 2014
Much like in the race for Connecticut's 5th Congressional district, Richard Tisei ran an excellent race but urban turnout in Lynn and Salem was just too strong for him for to overcome. Tisei ran slightly stronger than Roraback did but, unlike Connecticut were Chris Murphy's campaign was not well run and had no real turnout machine, Massachusetts Democrats were turned out in droves by Elizabeth Warren's well funded turnout machine.
Simply put, Richard Tisei should run again because he can clearly win, with or without John Tierney on the ballot. If Tierney runs again, almost all of of the voters who voted against him in 2014 (many of whom who voted against him on ethical grounds) will still be unwilling to vote for him at any point in the future. Tierney made statements late in the race sounding as if he wished he had retired, although defeating Tisei may have changed his mind on wanting to be retired and only running in his wife's and his honor. Tisei would have a ceiling not far above 50%, as most of those Tierney voters from 2014 likely wouldn't be amenable to voting Republican for Congress unless an incumbent Republican did a surprisingly good job representing the 6th district. However, Tierney's margin in Lynn alone was 3.5 bigger than his districtwide margin and his margin in Salem was nearly 2 times larger than his districtwide margin. Simply put, with turnout lower in Salem and Lynn in 2014, Tisei could win if he campaigns hard in the district's western flank to improve his performance in areas new to Tierney, overperforms as strongly as he did in the district's southern flank (which he represented in the State Senate), and maintains his margins in the district's most Republican region, the exurban inland areas of the North Shore like Boxford and Georgetown and the outskirts of the Merrimack Valley like North Andover.
If Tierney retires, the conventional wisdom on the ground is that Salem Mayor Kim Driscoll would be the nominee to replace him. Driscoll wouldn't have the advantage of being able to cut into Tisei's margins in any of his base or highly-performing areas, seeing as she's a Salem candidate and not from any of those areas. Salem is also smaller than Lynn, so increased turnout in Salem in a midterm year wouldn't be as crippling to Tisei's chances as increased turnout in Lynn (which is 2.18 times larger than Salem) would be. Salem, while not viewed upon as poorly by residents of the North Shore as Lynn is, still has a gritty and somewhat corrupt political reputation in Massachusetts. Once Tierney's replacement wins this ~D+3.4 (in a Presidential year) seat, they are likely set to hold the seat as long as they want it. However, there is no reason for Tisei to be counted out in a midterm when the seat is ~D+1.5, especially seeing as he had much electoral success in blue towns in his State Senate seat and seeing how he over performed Mitt Romney everywhere in the 6th district in 2012.
I spoke to Richard Tisei via email a few weeks ago and, while his loss was obviously disappointing to him, he seems to be in good spirits and I would not be surprised at all if he runs again for MA-06.
If Tisei doesn't run, State Senator Bruce Tarr, whose Democratic-leaning district consists of Cape Ann and a large swath of the exurban areas Tisei performed well in, would make an excellent nominee, but I tend to think (and hope) that Richard Tisei will be our nominee in 2014 (once he defeats gadfly and soon-to-be perennial candidate Bill Hudak).
While listening to "We Are Young" by Fun. still gives me a slightly sick feeling when those lyrics I quoted come up, I'm hopeful that Richard Tisei could run again and win. He's an excellent candidate and deserves another chance, and this time in a midterm. Run Richard, run!
[poll id="
499
"]