(Brad was on the Herman Cain blogger call last night. Here are his thoughts about the call. – promoted by Rob "EaBo Clipper" Eno)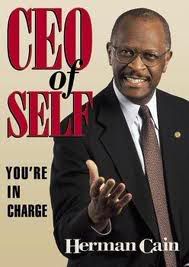 Herman who? Herman Cain, author, former business executive and radio show host and a favorite of many Tea Party activists held his first "blogger" call last night. (Gosh. I guess they're not ALL racists.) There is an excellent, almost point by point recap of the call over at The Sundries Shack blog which I highly recommend.
Not a lot of people have heard of Herman Cain but that is changing quickly. He has over 55,000 Facebook fans and more than 18,000 twitter followers @TheHermanCain. I'm not a huge fan of that Twitter handle but ala Scott Brown apparently @HermanCain was already taken.
Two things that were said on the call that lead me to believe that a Presidential run for Herman Cain is a matter of when and not if. Ellen Carmichael, Communications Director remarked that they would be holding these calls monthly in the future. Then Cain repeating what he had said earlier at a meeting of Tea Party activists in Florida declared "When I formed my exploratory committee I was putting my toe in the water. Now I am in up to my neck."
It sounds to me like he is about to plunge in head first.
More below the fold.
Three things struck me about the call. First, it was unscreened. Unlike the McCain and Romney calls I was on in 2008 which were all moderated and seemingly only the big name bloggers were allowed to ask questions, this one was completely open. In fact, you could hear the familiar beep-beep as people jumped on the call and Charmichael would ask people to announce themselves. At about 8:02 that request was answered by his familiar baritone "Herman Cain has joined the call."
The second thing that struck me was the number of bloggers (about 30) and the caliber for a first time call. Matt Lewis, Stacy McCain and bloggers from The Daily Caller, Right Wing News, Heritage Foundation and more. That is easily equivalent to the attention Senator McCain, the presumed GOP front runner was pulling in early 2007.
Finally it was Cain himself. His CPAC 2011 was certainly among the best received, interrupted 11 times by standing ovations. In this setting he seemed completely at ease and willing to offer straightforward answers to some tough questions. Cain is a cancer survivor so the what would you look for in a running mate question came up. Without hesitation, "Courage."
He went on further to speak about leadership and what he learned from turning around Godfather's Pizza, pulling it back from the brink of bankruptcy. "You have to make sure you are addressing the right question and you have to make sure you surround yourself with the best people to solve that problem."
We're a long while from Iowa and New Hampshire but I predict Herman Cain will be a force to be reckoned with for a quite a while and starting very soon.