(Deval Patrick is open to running for President according to multiple sources… HA – promoted by Rob "EaBo Clipper" Eno)
As new allegations about Deval Patrick's role in Ameriquest, the sub-prime mortgage crisis and collapse of the economy surface, media types are saying it all doesn't really matter,no new news has come out of it. Well in fact there is new news the voters of the Commonwealth have not been apprised of. Even though most people know that underlying story that Deval Patrick made an unethical phone call on behalf of his sub-prime friends to Bob Rubin of Citigroup, they don't know that the subsequent purchase of ACC by Citigroup led to its downfall and the economic malaise we now face.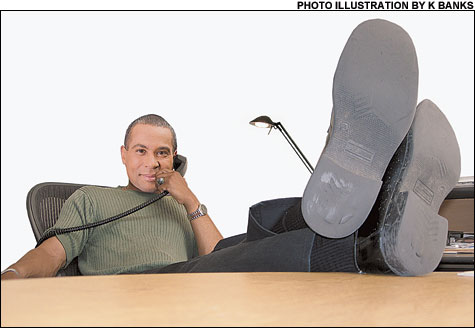 From 2004 to May of 2006 Deval Patrick was a member of the Board of Directors of ACC Capital Holdings the parent company of Ameriquest and Argent both sub-prime mortgage companies. Ameriquest on the retail side and Argent on the wholesale side. Patrick takes credit for the 2006 agreement by which Ameriquest, and Ameriquest only not Argent, agreed to stop retail predatory lending. Subsequent lawsuits show that this really didn't stop but only shifted from Ameriquest to Argent at ACC. That still doesn't rise to something that Deval Patrick did while in public office. The infamous phone call on February 20, 2007 does however.
On February 20, 2007 Adam Bass, the chief counsel of ACC Capital Holdings and nephew of Ronald Arnall the founder and Chairman of the Board of ACC, called newly sworn in Governor Deval Patrick of Massachusetts. The purpose of Bass' call was to ask Deval Patrick to act as a reference or character witness for ACC to Citigroup's Robert Rubin. Rubin and Patrick both served together at high levels of the Clinton Administration. Citigroup was in negotiations to purchase ACC Capital at that time, but the immediate need for ACC was an infusion of cash.
In press accounts, that surfaced around the time Citi agreed to purchase ACC, regarding the phone call was called "highly unusual.
Pam Wilmot, executive director of the watchdog group Common Cause/Massachusetts, questioned what role Patrick was playing in placing such a call to a corporation with extensive interests before the state. The implied message of Patrick's call, Wilmot said, is that he wants Citigroup to go ahead with the deal.

Wilmot said the governor "must represent the Commonwealth and only the Commonwealth" in such circumstances, rather than private interests.

"When a governor calls a company, particularly one that does business with the state, and asks it to do something, the company is going to feel pressure to act," said Wilmot. "They are going to ask, 'If I do this, will I get a favor?' and, 'If I don't, will there be any penalty?' Those questions should not be on the table at all, and, regardless of the answer, the very questions themselves create an appearance of conflict of interest."
This was not merely a phone call between friends as the Governor likes to portray it. Since the Commonwealth had business with Citigroup there was a clear conflict of interest. The Governor's words of support for ACC carried with them the entire weight of the Commonwealth.
On Februray 28, 2007, eight short days after the phone call Citi agreed to put cash into ACC. The agreement also gave them the opportunity to purchase other, non-Ameriquest, parts of ACC. An option they shortly thereafter exercised. In a press release issued about the agreement ACC stated:
This relationship is a result of ACH's thorough review of the current market and the different strategic alternatives currently available to an independent mortgage lender. ACH's wholesale origination business produced more than $23 billion in home loans in 2006, and ACH's mortgage servicing and special servicing platforms service a loan portfolio of more than $65

billion.

"Citi is pleased to be able to provide working capital to ACC Capital Holdings," said Jeffrey A. Perlowitz, head of global securitization in Citi's Fixed Income, Currencies and Commodities unit. "We have extensively reviewed ACH's progress in strengthening its operations and business practices, and are impressed with what the company has accomplished."

"Working with Citi will enhance our competitiveness," said Mital. "Our industry leading origination and servicing platforms will benefit greatly from Citi's financial strength and secondary market expertise."
The agreement and subsequent purchase of ACC business units significantly increased Citi's exposure to the sub-prime mortgage market. Later in the year that would prove to be almost deadly to the company.
On April 17, 2007 in a shareholders meeting and shareholders and the press questioned Cigitgroup CEO Charles Prince about the pending purchase of parts of ACC Capital.
At Citigroup's annual shareholders' meeting on April 17, 2007, Chuck Prince stood alone on the stage of Carnegie Hall, as Sandy Weill used to do, and took questions. Inner City Press asked about Citigroup's 2006 lending record – confining African Americans in New York to higher cost loans 4.4 times more frequently than whites – and about Citigroup's then just announced proposal for "propping up and taking an option in Argent," an affiliate of Ameriquest.

"Good question," Prince began. Argent "is a company that has restructured itself. This is a company that has settled with regulators." He said it is a situation of "good bank, bad bank" and claimed that Citigroup is only thinking of buying the good part.

But it was Ameriquest that announced reforms, none of which have been implemented at Argent. Prince cut in. "We're not going to buy anything unless it's cleaned up." So in the turbulent five months since, have Ameriquest and Argent really been cleaned up? Or have prices hit bottom, leading Citigroup to pounce? Prince said, "we've had reputation issues in the distant past, we're not going down that road." And now, while other wring their hands to come off as concerned, Citigroup is rushing headlong with Ameriquest further down the road of predatory lending.
That was April as we'll learn in September Citi did buy the rest of the pie.
In August of 2007 Citi finalized it's purchase of ACC. In doing so no details were made public, and Rubin et all lied to investors about their exposure to bad mortgages. In 2007 the SEC and Citi entered into an agreement regarding the lies.
The SEC announced the settlement on July 29. The agency had accused Citigroup of repeatedly making misleading statements in calls with analysts and regulatory filings about the extent of its holdings tied to high-risk mortgages.

"We'll provide the court with the additional information requested," SEC spokesman Kevin Callahan said. Shannon Bell, a spokeswoman for New York-based Citigroup, said "We will answer all the judge's questions concerning this matter."

When the housing bust hit in 2007 and borrowers defaulted, Citigroup's losses reached tens of billions of dollars on complex instruments linked to mortgages, pushing the bank to a financial precipice.
In the late summer early fall of 2007 the housing bubble burst. The purchase of ACC significantly increased Citi's exposure to the toxic sub-prime marketplace. Around this time Citi insiders told the NY Times that the purchase, finalized with the help of the Deval Patrick phone call, was akin to "catching a falling knife".
As the financial markets reeled from the housing bust fueled by sub-prime defaults, Citigroup lined up for a Federal Bailout. Under the TARP regime citibank received over $250B in TARP money. To put that in perspective the Marshall Plan, which rebuilt all of Europe, indexed for inflation still rises to just half that amount.
As their losses continued as a result of their overexposure to sub-prime mortgages Citigroup laid off 70,000 employees and saw it's stock plummet from highs of the mid fifty dollar range to hovering around $4.00 for the better part of two years. The market capitalization of the company fell by 98.4% from $244B to $6B. It's collapse threatened to take the economy down with it.
The facts are pretty clear Citigroup's sub-prime exposure were a major cause to its brink of failure. An exposure that was dramatically increased by the purchase of ACC Capital Holdings assets. The purchase of which was finalized shortly after Deval Patrick, with the full weight, faith and credit of the Commonwealth behind him, vouched for the management and business practices of ACC Capital.
The actions of a Governor while in office are clearly germane to his re-election campaign. In this instance the actions of Deval Patrick helped lead to the collapse of a financial giant who took the economy with them. Citigroup caught the "falling knife", but it was Deval Patrick that tossed it to them. For this reason alone Patrick is unfit for a second term.