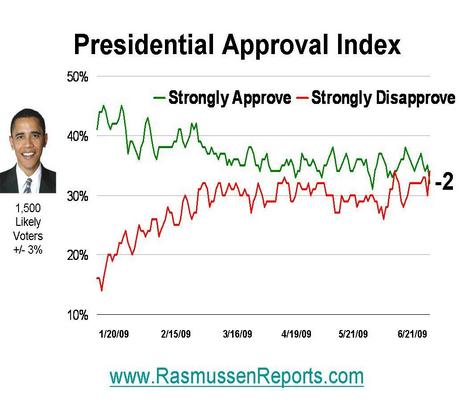 The Rasmussen Reports Presidential Approval Index has finally gone negative at -2%! This index measures the "Stongly Disaprove" versus the "Strongly Approve." 2% is within the margin of error and the index may be positive again by tomorrow. However, the 32% move from +30% on 01/22/09 is very significant. His overall approval is at +7%. Rasmussen does the only daily tracking poll among likely voters.
The largest reason for this shift can be traced to Obama's mishandling economic issues. 81% of voters view the economy as a very important issue. Their positions on how it should be handled are very different than what the President is doing.

Only 13% support the government retaining ownership of auto companies.
80% say they should sell the shares as soon as possible.
72% say auto companies, NOT the government, should decide which auto dealers to close.
By a 45%-39% margin voters now trust Republicans more than Democrats on economic issues.
By a 53%-27% margin voters think more government spending hurts the economy. 67% think government spending will go up.
By a 58%-18% margin voters think tax cuts will help the economy. Only 14% think taxes will go down.
Only 30% now trust Obama in an economic crisis.
MORE BELOW THE FOLD….
If you look By The Numbers Obama is also dipping in some other key areas.
73% now view Obama as a liberal
Only 31% view him as governing in a bipartisan way.
Rasmussen currently uses a polling model of 40.1% Democrats, 33.1% Republicans, and 26.7% Independents.