(I will be there, and so should you! – promoted by Cool Cal)
Greetings RedMassGroup,
I wanted to let you all know about an exciting event we have planned with special guest former Governor Paul Cellucci. On September 4th, we'll be hosting an event at the Hudson Portuguese Club to celebrate our campaign with Governor Cellucci. I am running for the very seat that Governor Cellucci himself use to represent in the State Senate, and he has graciously offered to help our campaign so we can get another Republican elected to this seat! Governor Cellucci will be available to meet everyone and sign his book Unquiet Diplomacy, so mark your calendars today. I hope you join us for this exciting event!
Bummed out that you can't go to the National Convention, or that your aren't a delegate? Wish you could watch Senator McCain's acceptance speech with other Massachusetts Republicans?
Well you are in luck! After our reception we'll be hosting a Convention-Watching Party for Republicans across the state. Come join us as we watch Senator McCain accept the nomination on live television.
It should be a great night and I hope you join us. How often do you get to:

Meet one of our very best former Republican Governors, Get a book signed by its author, watch the Convention with fellow activists, and IMPORTANTLY help out a Republican candidate in a COMPETITIVE Massachusetts District?
For questions or to RSVP: Email us at Levy.Committee@comcast.net
Thanks for your continued support. More details and flyer after the jump.
-Steven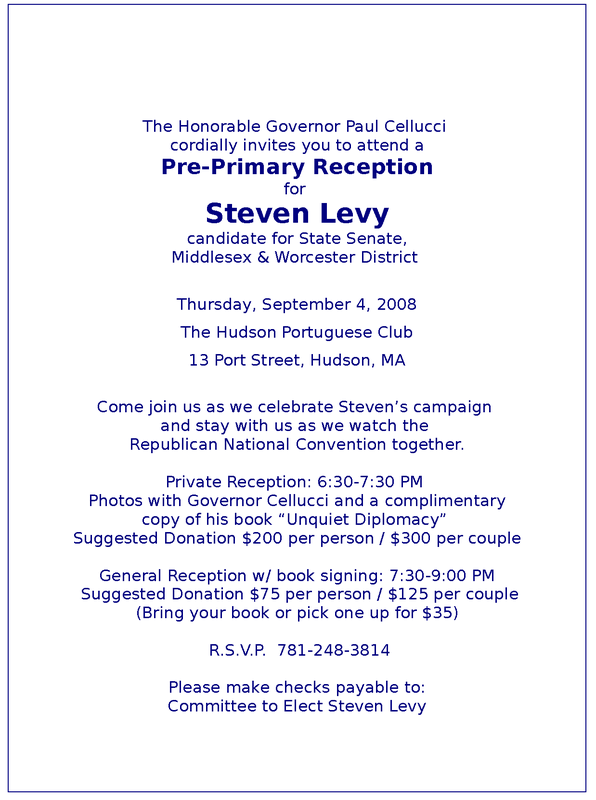 Thursday September 4th.

Hudson Portuguese Club

13 River Street

Hudson MA 01749
Private Reception 6:30-7:30

Suggested Contribution 200/300
General Reception 7:30-8:30

Suggested Contribution 75/125
RSVP: Levy.Committee@comcast.net or (781)248-3814

Checks Payable to the Committee to Elect Steven Levy.
As always more info is available at our website or our blog.