While I did not have the time to write up my own endorsement for
Governor Romney, with school starting and all, I am posting the following endorsement by Massachusetts native and conservative host/commentator Dean Barnett. Whoever has the privilege of promoting posts to the front page, please do so even if you support a different candidate. For the sake of fairness, please do the same with the Huckabee for President post.
I am proud to have supported our Governor in New Hampshire last weekend and intend to do so again this week and on Primary Day. Imagine electing a conservative Republican President from Massachusetts!
-Emil Levitin
———————————————————————————
EXCERPTS FROM THE ENDORSEMENT – LINK TO THE ENTIRE ENDORSEMENT BELOW:
A couple of weeks ago, I was having a casual conversation with someone who knows a great deal about the troop surge in Iraq and the decision-making process that led to its implementation. According to this individual, in late 2006 the president's team outlined for him the concepts of counterinsurgency doctrine that David Petraeus helped formulate. When presented with this option, the president snapped, "Why didn't someone tell me about this two years ago?"
The story may well be apocryphal. It may be the stuff of urban legend. Nevertheless, one thought struck me when I heard it: That would never happen to Mitt Romney.
I've known Mitt Romney since early 1994. I was one of the first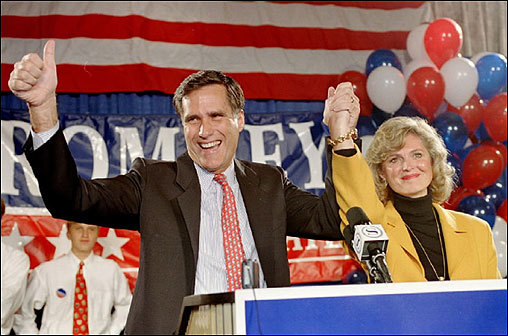 volunteers for his ill-fated Senate campaign that year against Ted Kennedy. I was his occasional driver, taking him to ward-committee meetings around the commonwealth. It was my job to serve as a one-man entourage — it's unseemly for a major candidate to enter a room of 20 voters unaccompanied by at least one enthusiastic volunteer.
For me, it was a pretty good deal. As a 27-year-old who had recently started his own business and was eager for advice, I was delighted to have one of Boston's best businessmen as a captive audience in a Ford LTD for a few hours. I happily picked his brain. Although Romney may have preferred drivers who just shut up and drive, he was far too gentlemanly ever to let such feelings show.
One thing struck me as I wedged my nascent business venture into nearly every conversation. Romney has what is best described as a voracious intellect. He didn't casually toss off opinions. He didn't offer advice from his gut, nor did he rely on his years of experience and say things like, "We always did it this way." If he was going to venture any opinions or offer any advice, he would gather all the necessary data before doing so. He was more curious about how my business functioned and should function than I was.
If Mitt Romney were presiding over a faltering war effort, he wouldn't passively wait for his advisers to bring him alternatives. He would consider it his responsibility to go out and find them himself…
People who meet Romney are almost invariably charmed. To put it mildly, the same could not be said of Dukakis. One of the reasons that Romney's doing so well in the early-voting states is that the people there have gotten to know the real Romney, as opposed to the national-media narrative that has arisen around his campaign.
…In the Boston business community, Mitt Romney was known as an honest and decent man. His penchant for honesty carried over into the political arena. Although his political foes will never concede as much, their silence regarding his kept campaign promises speaks volumes.
Mr. Barnett is a staff writer at The Weekly Standard.