The one constant through all the years, Ray, has been baseball. America has rolled by like an army of steamrollers. It's been erased like a blackboard, rebuilt, and erased again. But baseball has marked the time. This field, this game, is a part of our past, Ray. It reminds us of all that once was good, and it could be again. – Terrance Mann "Field of Dreams"
Yesterday we as citizens of the Commonwealth were treated to two amazing baseball moments. And neither of them involved multimillion dollar players. Both of these moments involved kids no older than 12.
The first amazing moment was 7 year old Jordan Leandre running the bases after singing the National Anthem. Why was this such a great moment you ask. Jordan had cancer and had sung the National Anthem before three years ago and could barely walk, he had braces on his legs and back. He was interviewed during the Jimmy Fund Radiothon on WEEI and Glenn Ordway told him he should run the bases after singing. Jordan asked what to do if they told him to stop, Ordway said "keep running, I'll bail you out".
I unfortunately couldn't watch the game live but did catch the replays on local tv last night. Jordan did it, he ran the bases and it was amazing. It reminds you of how baseball really binds us.
Jordan, who was treated in the Jimmy Fund Clinic for Ewing's sarcoma, is no stranger to Fenway, first singing the anthem as part of the WEEI/NESN Jimmy Fund Radio-Telethon in August 2004 with his Red Sox idols by his side. Yesterday was a major feat for Jordan, showing his bravery and strength as he made his way around the field on his own two feet.

The South Dennis boy was 2 when he was diagnosed with Ewing's sarcoma, a cancer that occurs primarily in the bone or soft tissue. With the cancer settling in the upper part of his right thigh, Jordan underwent 10 months of chemotherapy and conquered the cancer.

After undergoing numerous surgeries to his right leg and having to be confined to a body cast and wheelchair for sometime, the youngster proved his love for life and his love for the game yesterday.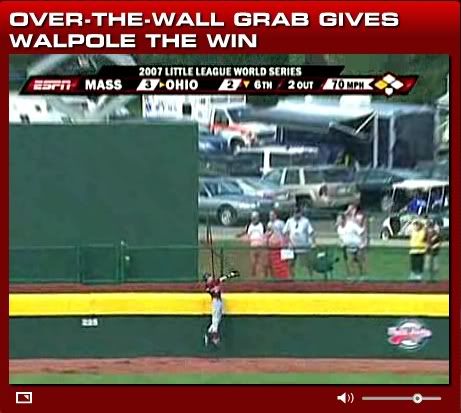 The second amazing moment was Mike Rando, of the Walpole Little League team in the LL World Series, made an over the wall catch to help Team New England of Walpole advance to the next game. The catch was so good that it was ESPN's Play of the Day! Great job Mike, we're all pulling for ya!