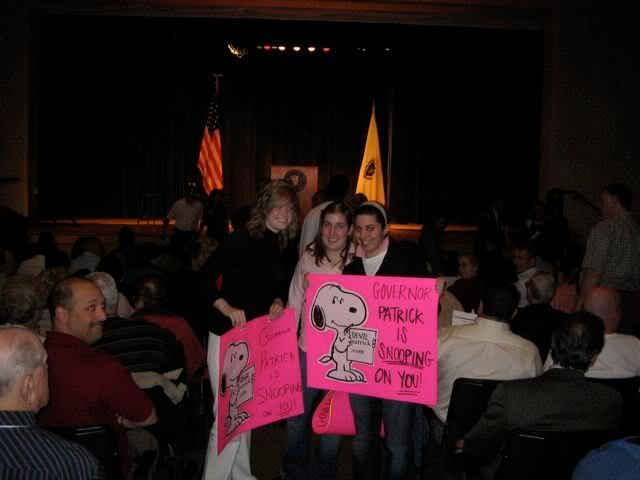 A group of College Republicans who were upset with the privacy concerns on DevalPatrick.com, showed up at the Worcester Deval Patrick Campaignistration town meeting in Worcester. Red Mass group had a chance to interview Jo J. from Mt. Holyoke College who organized the protest.
RMG: What gave you the idea to protest at the DevalPatrick.com Worcester launch?
JJ: Recently, Governor Patrick has been in the news for his website devalpatrick.com and its absurd invasion of the privacy of Massachusetts voters. When I heard about the town hall in Worchester, I knew that this was a perfect opportunity for the Massachusetts Alliance of College Republicans to confront Governor Patrick on this issue and be part of a constructive dialogue.
RMG:
Why did you feel that Deval Patrick was snooping.
JJ: The Governor is "snooping" on the voters of Massachusetts because his website exposed the addresses of registered voters. In this new technology age a lot of our personal information was readily available on the internet and thus was vulnerable- but our policy makers have the power and duty to protect us. I believe that, as governor of Massachusetts, Deval Patrick should be held to a higher standard and should strive to set the example. By sacrificing our right privacy through devalpatrick.com, Governor Patrick is currently part of the problem, not the solution.
RMG: Did you feel your privacy was put at risk?
JJ: As a woman, I am deeply concerned about the message that the Governor is sending our female voters. Women voters, with addresses that are private or unlisted for security reasons (like they have a restraining order against a dangerous stalker), were suddenly put in an extremely vulnerable position through devalpatrick.com. The Globe reported on Tuesday that, Secretary of State William Galvin said that Governor's Deval Patrick's new grass-roots website violated the privacy of Massachusetts voters by making their home addresses easily available to online visitors. Secretary of State Galvin went on to say

"We go to great lengths to protect the confidentiality of voting lists from vendors and sales people, and we're concerned there is information out there that shouldn't be, for instance, police officers' residential addresses, deceased voters, apartment numbers of elderly voters," Galvin said. "I'm told there are people who have restraining orders on the list with their residential address."
RMG: What group do you belong to?
JJ: On Tuesday in Worchester, we had Massachusetts College Republicans from Mount Holyoke College, Smith College, the University of Massachusetts at Amherst and Western New England College who turn out for the event.
RMG: How was your reception?
JJ: As students from women's colleges and state universities, we were very well received by the other Massachusetts constituents present at the town hall. The voters of Massachusetts just want to know the truth and agree that their right to privacy should be a priority for the Governor. Based on recent activity from Beacon Hill, we were all excited that our message came across loud and clear to everyone in attendance at the town meeting.